Packers Merchandise
Packers Posters
Fathead Graphics
Packers HOFers
Congratulations Green Bay Packers - Super Bowl XLV Champions!!
Featured here are star Green Bay Packers players of yesterday and today. Among their offensive stars are Aaron Rodgers, Greg Jennings, Jordy Nelson, Alex Green, Cedric Benson, John Kuhn, Jermichael Finley, Marshall Newhouse, T.J. Lang, Jeff Saturday, Josh Sitton and Bryan Bulaga. On the defensive side of the ball are Ryan Pickett, B.J. Raji, C.J. Wilson, Nick Perry, A.J. Hawk, D.J. Smith, Clay Matthews, Tramon Williams, Jarrett Bush, Charles Woodson and Morgan Burnett.
Green Bay Packers Tickets

---
Ace's Green Bay Packers Store
Apparel, Posters, Jerseys, T-Shirts, Jackets, Caps, Sweaters, Footwear, Women's,
Infants', Kids', Auto Accessories, Books, DVDs, Collectibles, Cards
All Apparel

Women's

Auto

Home Decor

Green Bay Packers Merchandise Store >>>

Packers Fan Gear >>> Ace's NFL Super-Store - 25 Departments >>>
---
Green Bay Packers Posters & Photos
More Green Bay Packers Posters & Photos >>>
Green Bay Packers Fathead Life-Size Posters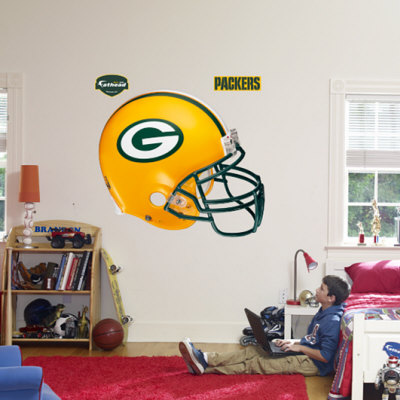 Packers Helmet - Fathead Wall Sticker
51 in. x 57 in.
Buy at AllPosters.com

More Giant Fathead NFL Football Graphics >>>
Green Bay Packer Hall of Famers
26 Herb Adderly
3 Tony Canadeo
87 Willie Davis
Len Ford
75 Forrest Gregg
83 Ted Hendricks
38 Arnie Herber
30 Clarke Hinkle
5 Paul Hornung
36 Cal Hubbard
14 Don Hutson
75 Henry Jordan
2 Walt Kiesling
20 Earl (Curly) Lambeau
80 James Lofton
Vince Lombardi
24 Johnny (Blood) McNally
2 Mike Michalske
66 Ray Nitschke
51 Jim Ringo
15 Bart Starr
3 Jan Stenerud
31 Jim Taylor
Emlen Tunnell
92 Reggie White
24 Willie Wood
Retired numbers: Tony Canadeo #3, Don Hutson #14, Bart Starr #15, Ray Nitschke #66, Reggie White #92.

© Copyright 2003- by Ace Toscano. All rights reserved.
We are not affiliated with the NFL's official site.