Bears Merchandise
Bears Posters
Fathead Graphics
Bears HOFers

Walter Payton (July 25, 1954 – November 1, 1999) was an American football player who spent his entire professional career with the National Football League's Chicago Bears. Walter Payton was known around the NFL as "Sweetness". He is remembered as one of the most prolific running backs in the history of American football. Payton, a nine-time Pro Bowl selection, once held the League's record for most career rushing yards, touchdowns, carries, and many other categories. He led the NFC in rushing five straight years from 1976 to 1980. He was named both All-Pro and All-NFC seven times. He was selected as the NFL's Most Valuable Player in 1977 and 1985, the NFL Offensive Player of the Year in 1977 and 1985 and the NFC Most Valuable Player in 1977. Walter was elected into the Pro Football Hall of Fame in 1993. Hall of Fame NFL player and coach Mike Ditka described Payton as the greatest football player he had ever seen—but even greater as a human being.¹

Below are the stats for Payton's 1977 MVP season. It may have been Payton's most productive year.
Walter Payton's 1977 MVP Season
Rushing
Receiving
Season
G
Att
Yds
Avg
Lng
TD
Rec
Yds
Avg
Lng
TD
1977
14
339
1852
5.5
73
14
27
269
10.0
75T
2
Featured here are star Chicago Bears players of yesterday and today. Among their offensive stars are Jay Cutler, Brandon Marshall, Devin Hester, Matt Forte, Evan Rodriguez, Kellen Davis, J'Marcus Webb, Chris Spencer, Roberto Garza, Lance Louis and Gabe Carimi. On the defensive side are Israel Idonije, Henry Melton, Stephen Paea, Julius Peppers, Nick Roach, Brian Urlacher, Lance Briggs, Tim Jennings, Charles Tillman, Major Wright and Chris Conte.
Chicago Bears Tickets

---
Ace's Chicago Bears Store
Apparel, Posters, Jerseys, T-Shirts, Jackets, Caps, Sweaters, Footwear, Women's,
Infants', Kids', Auto Accessories, Books, DVDs, Collectibles, Cards
Ace's NFL Super-Store - 25 Departments - All Teams and All Players >>>
All Apparel

Women's

Bears Auto

Posters

The Chicago Bears Merchandise Store >>>

Bears Fan Shop >>>
---
Chicago Bears Posters & Photos
More Chicago Bears Posters & Photos >>>
Chicago Bears Fathead.com Wall Posters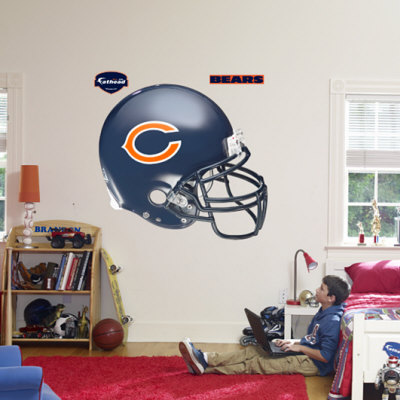 Bears Helmet -Fathead Wall Sticker
51 in. x 57 in.
Buy at AllPosters.com

More Giant Fathead NFL Football Graphics >>>
Bears Hall of Famers & Retired Numbers
Hall of Famers
(No. / Player / Positions)
1 Paddy Driscoll QB-S-K, Head Coach
3 Bronko Nagurski RB-OT-LB
5 George McAfee RB-S
7 George Halas founder, owner, Head Coach, TE-DE
11 Link Lyman OT-DT
13 George Trafton C-DT
13 Joe Stydahar OT-DT
16 Ed Healey OT-DT
16 George Musso C-DT
16 George Blanda QB
21 Danny Fortmann G-DT
34 Walter Payton RB
40 Gale Sayers RB
42 Sid Luckman QB-CB
50 Mike Singletary LB
51 Dick Butkus LB
56 Bill Hewitt TE-DE
61 Bill George LB
66 Clyde (Bulldog) Turner C-DT
71 George Connor OT-LB
77 Harold (Red) Grange RB-CB
78 Stan Jones OT

81 Doug Atkins DE
89 Mike Ditka TE, Head Coach
95 Richard Dent DE
99 Dan Hampton DE
-- Jim Finks General Manager
Bears Retired Numbers
(No. / Player)
3 Bronko Nagurski
5 George McAfee
7 George Halas
28 Willie Galimore
34 Walter Payton
40 Gale Sayers
41 Brian Piccolo
42 Sid Luckman
51 Dick Butkus
56 Bill Hewitt
61 Bill George
66 Clyde (Bulldog) Turner
77 Harold (Red) Grange


© Copyright 2003- by Ace Toscano. All rights reserved.
¹ wikipedia.org
We are not affiliated with the NFL's official site.