Tami Hoag Bio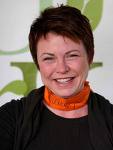 Born Tami Mikkelson in Iowa, popular author Tami Hoag grew up in a very small Minnesota town. Because her siblings were more than ten years older than her and there were not a lot of other children nearby, Tami developed an active imagination, making up stories to entertain herself. In 1977 she married her high school sweetheart, Daniel Hoag, shortly before he finished college. However, she never had the opportunity to go to college herself, as they moved to a town without easy access to higher education. The couple were later divorced.
Before publishing her first novel, Hoag held varying jobs, including a stint as a photographer's assistant, training show horses, working at the circulation desk at a newspaper, and even selling designer bathroom accessories. She began her career as an author in 1988, writing category romances for the Bantam Books Loveswept Line. After several years of success in that field, Hoag switched her focus to single-title suspense novels. She has had a string of New York Times bestsellers a mile long, including five in a 20-month span.
Hoag and three other authors who made the leap from romance to thrillers at roughly the same time (Eileen Dreyer, Elizabeth Grayson and Kimberly Cates) have formed a group they call the Divas. The group provides support and encouragement for each other, and Hoag often thanks them in the acknowledgement section of her books.
Tami Hoag owns horses, and often goes for a ride to combat writer's block. She has competed in dressage at a national level, but stopped competing after breaking five vertebrae in her back during a fall while trying out a horse for a friend. Hoag is fully recovered from her accident, and has returned to the competition arena. She currently lives in Malibu, California, and Wellington, Florida.¹
---
Tami Hoag Quotes
"The arc of development of the good guy is as important to me as the bad guy. They go on this journey and it's going to change them somehow. They aren't going to be the same people as they were before."
"I'm not an outline person. I'm not a plot-oriented person. It's all character driven for me. So what I do is I know the setup, I know the catalyst of the story and I'll have some ideas of where I want to go with it. But I pretty much turn the characters loose and let them run with it."
I belong to several affiliate programs. When you purchase a book from this site, I earn a commission from amazon. Thank you.