Children's Books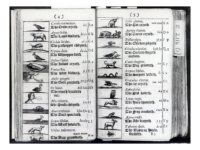 The First Illustrated Book for Children.
John Amos Comenius (1592-1670), a Czech teacher, educator, writer and ordained minister is credited with writing the first illustrated book for children. He wrote a series of textbooks in which he attempted to organize the entire field of human knowledge so as to bring it, in outline, within the grasp of every child. His Orbis Sensualium Pictus, published n 1657, was probably the most renowned and most widely circulated of school textbooks of that era. It was also the first successful application of illustrations to the work of teaching, and many consider it the first illustrated book for children. It contained 150 illustrated chapters designed to teach students Latin with the help of short, memorable sentences in the child's own tongue. Something of an encyclopedia, the Orbis brought into the home a complete world, combining subjects and modes of life from near and far.
---
---
"You know your children are growing up when they stop asking you where they came from and refuse to tell you where they're going." ~ P.J. O'Rourke
---
Recommended Books

For ages 0-2: The Very Hungry Caterpillar by Eric Carle, Dear Zoo by Rod Campbell, The Baby's Catalogue by Janet and Allan Ahlberg, We're Going on a Bear Hunt: Michael Rosen.

For ages 2-4: Goodnight Moon by Margaret Wise Brown and Clement Hurd, The Elephant and the Bad Baby by Elfrida Vipont and Raymond Briggs, The Snail and the Whale by Julia Donaldson and Axel Scheffler, My Friend Harry by Kim Lewis, Where The Wild Things Are by Maurice Sendak.

For ages 5-7: The Sheep-Pig by Dick King-Smith, Charlie and the Chocolate Factory by Roald Dahl, The Legend of Captain Crow's Teeth by Eoin Colfer, The Adventures of Captain Underpants by Dav Pilkey, The Worst Witch by Jill Murphy.

For ages 8-12: Stig of the Dump by Clive King, Charlotte's Web by E.B. White, The Family from One End Street by Eve Garnett, The Story of Tracy Beaker by Jacqueline Wilson, Matilda by Roald Dahl.

For 12 and older: I Capture the Castle by Dodie Smith, His Dark Materials by Philip Pullman, The Chaos Walking trilogy by Patrick Ness, Are You There, God? It's Me, Margaret by Judy Blume, Goodnight Mr Tom by Michelle Magorian.

I belong to several affiliate programs. When you purchase a book from this site, I earn a commission from amazon. Thank you.