Janet Evanovich Bio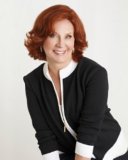 "You can take the girl out of Jersey, but you can't take Jersey out of the girl." So states popular mystery novelist Janet Evanovich in the biographical sketch found at evanovich.com. Thank goodness for Jersey Girls! Because it's precisely that Jersey girl quality transferred to her protagonist and, alter-ego, Stephanie Plum that gives her mystery novels their unique flavor.
After graduating from South River High School, and spending four years at Douglas College, "honing my ability to wear torn Levis," Janet decided to apply her "slightly looney imagination" to writing stories. As is often the case (remember, A is for Alibi was Sue Grafton's eighth novel), she wasn't immediately successful. Finally, discouraged by accumulated rejections, she entered the workforce as a secretarial temp. Four months later she received a call from an editor who informed her that he had accepted her last submission, a romance, for which she was paid a whopping $2,000.
Inspired by her success, she turned to romance writing full-time but after 12 novels in that genre she found she had nothing more to say. "...I ran out of sexual positions." She decided to move on. During the next two years she "retooled," watching a lot of TV and reading, especially Robert B. Parker. "He's such an incredible technician. He makes reading easy." Eventually, she came up with a unique formula for her Stephanie Plum mysteries, one that incorporated her romance writing skills into the mystery genre.¹
"I wouldn't go so far as to say Stephanie Plum is an autobiographical character, but I will admit to knowing where she lives." ~ Janet Evanovich
I belong to several affiliate programs. When you purchase a book from this site, I earn a commission from amazon. Thank you.