NBA Store | Stephon Marbury Posters | Fathead Graphics
Stephon Xavier Marbury (born February 20, 1977 in Brooklyn, New York) is an American professional basketball player, was traded from the New York Knicks to the Boston Celtics during the 2008-2009 season after it became apparent that he had no future with the Knicks.

In January 2010, it was announced that Marbury had signed with the Shanxi Zhongyu Brave Dragons of the Chinese Basketball Association. In his first game, Marbury, suffering from jet lag, contributed 15 points, 4 rebounds, 8 assists, and 4 steals in 28 minutes of action. He averaged 22.9 points, 9.5 assists and 2.6 steals in 15 games, but Shanxi eventually failed to advance to the playoffs. Marbury later participated in the CBA All-Star match between the North and the South teams, contributing 30 points and 10 assists for the North team. His performance would earn him the MVP title for the All-Star match. Marbury agreed to a three-year deal with the Brave Dragons in 2010.

Marbury was an NBA All-Star in 2001 and 2003 and an All-NBA Third Team member in 2003. He is known for his quickness, ball handling and inside scoring. His career averages are 19.9 ppg and 7.9 apg.

Marbury has often gone by the nickname "Starbury", a name created during his youth. Marbury, the sixth of seven children, was born and raised on Coney Island and attended elementary school PS 238. During his teenage years he was often heralded as the next great New York City point guard, expected to follow the success of NBA stand-outs Mark Jackson and Kenny Anderson.

While still attending Abraham Lincoln High School he was one of the subjects of Darcy Frey's book "The Last Shot," which followed three seniors and Marbury, a freshman, through the early months of his first season with the school's team. In high school he played for the nationally recognized AAU team, the New York Gauchos, out of the Bronx.¹

Featured here are Stephon Marbury posters, photos, giant Fathead wall graphics, collectibles and apparel.
---
Ace's NBA Basketball Store
Apparel, Posters, Jerseys, T-Shirts, Jackets, Caps, Sweaters, Footwear, Women's,
Infants', Kids', Auto Accessories, Books, DVDs, Collectibles, Cards
Ace's NBA Store - 25 Departments - All Teams and All Players >>>
All Stephon Marbury Fan Gear >>>

---
Stephon Marbury Posters & Photos
** All Stephon Marbury Posters & Photos **
Life-Size Fathead Wall Graphics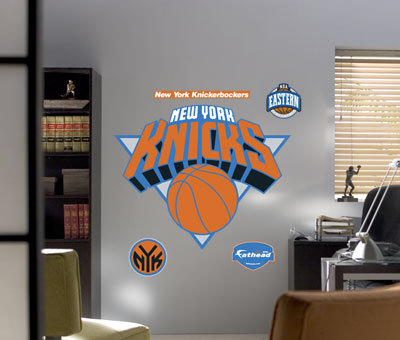 Knicks Logo -Fathead Wall Sticker
52 in. x 42 in.
Buy at AllPosters.com

Copyright © 2004- by Ace Toscano. All rights reserved.

We are not affiliated with the NBA's official site.