NBA Store | Allen Iverson Posters | Fathead Graphics
Allen Ezail Iverson (born June 7, 1975, in Hampton, Virginia), nicknamed A.I. and The Answer, is an American professional basketball player. After splitting the previous season between the Denver Nuggets and the Detroit Pistons, he was signed by the Memphis Grizzlies just prior to the opening of training camp for the 2009-2010 campaign. He was, subsequently, traded back to the 76ers. "I'm not the player I was at 24," he said. "At 24, the gas tank was overflowing. Now, it's just full." Mid-season, Iverson left the team in order to deal with his 4-year-old daughter's illness and it was disclosed that he would not return for the remainder of the 2010 season. A 13-year veteran at the age of 34, he is considered to be one of the most prolific and consistent scorers in the history of the game (his career average of 28 points per contest is third all-time behind only Michael Jordan and Wilt Chamberlain).

As a junior, Iverson quarterbacked Bethel High School's football team to the state championship, which they won.

Iverson was later involved in a highly publicized incident on Valentine's Day that almost jeopardized his college career. On February 14, 1993, Iverson and several of his friends became involved in an altercation with a group of white teenagers at a Hampton, Virginia bowling alley. Allen's crowd was raucous and had to be asked to quiet down several times, and eventually something of a shouting duel began with another group of youths (all white). Then shortly thereafter, a huge fight erupted, pitting the white crowd against the blacks. During the fight, Iverson was accused of hitting a woman in the head with a chair. He, along with three of his friends who are also African American, were the only people arrested. Iverson, who was 17 at the time, was convicted as an adult of the felony charge of "maiming-by-mob". Iverson and his supporters maintain his innocence, claiming that he had left the alley as soon as the trouble began. "For me to be in a bowling alley where everybody in the whole place know who I am and be crackin' people upside the head with chairs and think nothin' gonna happen?" asks Iverson. "That's crazy! And what kind of a man would I be to hit a girl in the head with a damn chair? I wish at least they'd said I hit some damn man."¹

For his play during the 2000-01 season, Iverson was chosen the NBA's Most Valuable Player.

Totals For Allen Iverson's 2000-2001 MVP Season
TOT
G
MIN
FGM/A
3PM/A
FTM/A
OFF
DEF
REB
AST
STL
BLK
TO
PF
PTS
00-01
71
2979
762/1813
98/306
585/719
50
223
273
325
178
20
237
147
2207
AVG
G
MPG
FG%
3P%
FT%
OFF
DEF
RPG
APG
SPG
BPG
TO
PF
PPG
00-01
71
42
42.0
32.4
81.4
0.7
3.1
3.8
4.6
2.5
0.3
3.3
2.1
31.1

Featured here are Allen Iverson posters, photos, giant Fathead wall graphics, collectibles and apparel.
---
Ace's NBA Basketball Store
Apparel, Posters, Jerseys, T-Shirts, Jackets, Caps, Sweaters, Footwear, Women's,
Infants', Kids', Auto Accessories, Books, DVDs, Collectibles, Cards
Ace's NBA Store - 25 Departments - All Teams and All Players >>>
Philadelphia 76ers Merchandise Store >>>
Apparel

Posters

Collectibles

Books

Allen Iverson Apparel >>> Allen Iverson Fan Gear >>>
Allen Iverson Posters & Photos
** All Allen Iverson Posters & Photos **
76ers Life-Size Fathead Posters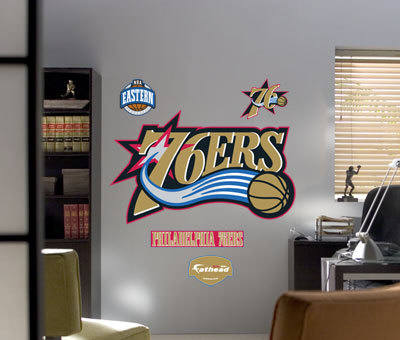 76ers Logo - Fathead Wall Sticker
52 in. x 32 in.
Buy at AllPosters.com


© Copyright 2003- by Ace Toscano. All rights reserved.
We are not affiliated with the NBA's official site.