NBA Store | Dirk Nowitzki Posters | Fathead Graphics

Congratulations 2010-2011 NBA Championship Series MVP!!!
Dirk Werner Nowitzki (born June 19, 1978 in Würzburg, Germany) is a German-born professional basketball player currently playing for the United States' National Basketball Association's (NBA) Dallas Mavericks. Standing at 7 ft 0 in (2.13 m), Nowitzki is an all-purpose forward, able to play any position in the front court - center, power forward, or small forward.

Nowitzki was selected with the 9th overall pick in the 1998 NBA Draft by the Milwaukee Bucks and was immediately traded to the Dallas Mavericks for their sixth pick, Robert "Tractor" Traylor. Nowitzki is widely regarded as one of the best players in the NBA today. Although there have been numerous German players in the NBA, in 2006 Nowitzki became just the second German-born player (after Detlef Schrempf) to make it to the Finals.

In May 2007, Nowitzki became the first European-born player in NBA history to receive the league's Most Valuable Player award and there can be little doubt that he is destined to join the other NBA greats in the Hall of Fame.¹

Stats For Dirk Nowitzki's 2006-2007 MVP Season
TOT
G
MIN
FGM/A
3PM/A
FTM/A
OFF
DEF
REB
AST
STL
BLK
TO
PF
PTS
06-07
78
2820
673-1341
72-173
498-551
122
571
693
263
52
62
167
171
1916
AVG
G
MPG
FG%
3P%
FT%
OFF
DEF
RPG
APG
SPG
BPG
TO
PF
PPG
06-07
78
36.2
50.2
41.6
90.4
1.6
7.3
8.9
3.4
0.7
0.8
2.14
2.20
24.6

Featured here are Dirk Nowitzki posters, photos, giant Fathead wall graphics, collectibles and apparel.
---
Ace's NBA Basketball Store
Apparel, Posters, Jerseys, T-Shirts, Jackets, Caps, Sweaters, Footwear, Women's,
Infants', Kids', Auto Accessories, Books, DVDs, Collectibles, Cards
Ace's NBA Store - 25 Departments - All Teams and All Players >>>
Apparel

T-Shirts

Collectibles

For The Home

All Dirk Nowitzki Fan Gear >>>
Dirk Nowitzki Posters & Photos
** All Dirk Nowitzki Posters & Photos **
Life-Size Fathead Wall Graphics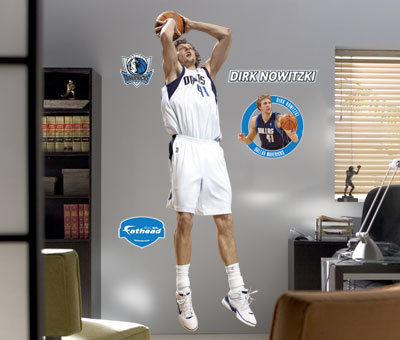 Dirk Nowitzki -Fathead Wall Sticker
90 in. x 38 in.
Buy at AllPosters.com


© Copyright 2003- by Ace Toscano. All rights reserved.
We are not affiliated with the NBA's official site.