NBA Store | LeBron James Posters | Fathead Graphics

Congratulations LeBron on your first ring and the 2011-2012 Bill Russell MVP Award.
LeBron Raymone James (born December 30, 1984) is an American professional basketball player who began his career with the Cleveland Cavaliers of the National Basketball Association (NBA). In July of 2010 he signed as a free agent with the Miami Heat, joining Dwyane Wade and Chris Bosh in what should be a formidable force in the 2010-2011 season and for many seasons to come.

Commonly nicknamed "King James" and "The Chosen One", the Akron, Ohio-born James was highly promoted in the national media as a future NBA star while still in high school, and was named Ohio's "Mr. Basketball" three times. At the age of 18, he was selected with the first overall pick in the 2003 NBA Draft by the Cavaliers.

Before his NBA debut, James signed an unprecedented $90 million shoe contract with Nike. He has since set numerous youngest player records. In his first season, he received the NBA Rookie of the Year Award and in the following three seasons received All-NBA and All-Star honors. He led the Cavaliers to back-to-back playoff appearances in 2006 and 2007; the latter year the team advanced to the Conference Finals for the first time since 1992 and the NBA Finals for the first time in franchise history.¹

Below are Lebron's stats for his MVP 2008-2009 season.

Totals For Lebron James' 2008-2009 MVP Season
TOT
G
MIN
FGM/A
3PM/A
FTM/A
OFF
DEF
REB
AST
STL
BLK
TO
PF
PTS
08-09
81
3,054
789/1613
132/384
594/762
106
507
613
587
137
93
241
139
2304
AVG
G
MPG
FG%
3P%
FT%
OFF
DEF
RPG
APG
SPG
BPG
TO
PF
PPG
08-09
81
37.7
48.9
34.4
78.0
1.3
6.3
7.6
7.2
1.7
1.1
2.98
1.7
28.4

The best place for LeBron James posters, photos, giant Fathead wall graphics, collectibles and apparel.
---
Ace's NBA Basketball Store
Apparel, Posters, Jerseys, T-Shirts, Jackets, Caps, Sweaters, Footwear, Women's,
Infants', Kids', Auto Accessories, Books, DVDs, Collectibles, Cards
Ace's NBA Store - 25 Departments - All Teams and All Players >>>
All Apparel

T-Shirts

Collectibles

For The Home

All LeBron Fan Gear >>>
LeBron James Posters & Photos
** All LeBron James Posters & Photos **
Life-Size Fathead Wall Graphics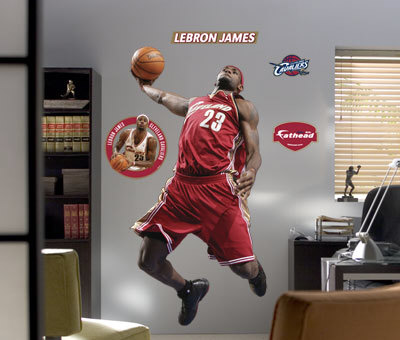 LeBron James -Fathead Wall Sticker
79 in. x 38 in.
Buy at AllPosters.com


© Copyright 2003- by Ace Toscano. All rights reserved.
We are not affiliated with the NBA's official site.