NBA Store | Amar'e Stoudemire Posters | Fathead Graphics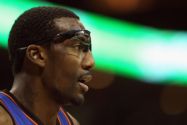 Amar'e Stoudemire. Amar'e Carsares Stoudemire, born November 16, 1982, is an American professional basketball center/power forward playing for the New York Knicks. Taken in the first round of the 2002 NBA Draft with the ninth overall pick, he spent the first eight years of his career with the Phoenix Suns. Listed as 6-foot-10-inches, 249-pounds, Stoudemire won the NBA Rookie of the Year Award in 2003, made five appearances in the NBA All-Star Game, made first-team All-NBA Team in 2007, and won a Bronze Medal with the United States men's national basketball team at the 2004 Olympic Games.
On June 30, 2010, Stoudemire opted out of his contract with the Phoenix Suns, which made him an unrestricted free agent. On July 5, 2010, Stoudemire and the New York Knicks agreed in principle to a contract estimated to be worth around $99.7 million over five years. On the first day that free agents were allowed to officially sign, the Knicks formally introduced Stoudemire at Madison Square Garden. With the Knicks, Stoudemire was reunited with head coach Mike D'Antoni, who had coached him with the Suns. It didn't take long for Amar'e to prove his worth. On December 15, 2010, in a loss against the Boston Celtics, Stoudemire set a Knicks record with his ninth straight 30-point game. On December 17, 2010, he set another franchise record with his ninth straight game shooting 50 percent or better from the field. All of a sudden, the Knicks are contending for a playoff berth.¹
There is no better place for Amar'e Stoudemire posters, photos, giant Fathead wall graphics, collectibles and apparel.
---
Ace's NBA Basketball Store
Apparel, Posters, Jerseys, T-Shirts, Jackets, Caps, Sweaters, Footwear, Women's,
Infants', Kids', Auto Accessories, Books, DVDs, Collectibles, Cards
All Apparel

Menswear

Collectibles

For The Home

All Amar'e Stoudemire Items @ amazon >> NBA Store - All Teams, All Players >>
Amar'e Stoudemire Posters & Photos
Amare Stoudemire 2010-11 Action Photo
16 in. x 20 in.

All Amar'e Stoudemire Posters & Photos >>
Life-Size Amar'e Stoudemire Fathead Wall Graphics


¹ Complete Amar'e Stoudemire bio at Wikipedia.
© Copyright 2003- by Ace Toscano. All rights reserved.
We are not affiliated with the NBA's official site.