Justin Bua Bio
Renowned artist Justin Bua's signature style of Distorted Urban Realism imparts a vibrantly fresh, stunningly innovative flavor to his "Piano Man" series. Growing up as a break-dancer and graffiti artist, Bua's highly original work reflects an urban, multicultural, Hip-Hop influenced world. Inspired by a youth forged on the untamed streets of New York's Upper West Side, the relevance and brilliance of Bua's work has universal appeal that transcends race, gender, age and economic status.
---
"Leave room to grow because if you see your work as great with no room for improvement then you have already shot yourself in the foot. Be realistic and self-critical."
---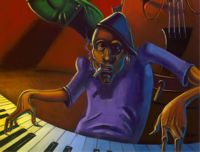 Born in New York in 1968 to a single mom Justin Bua grew up in NYC's raw and wild Upper West Side. A third-generation artist following in the footsteps of his mother and grandfather, he first got attention as a breakdancer and a graffiti artist. In fact, while a student at New York's High School of Music and Performing Arts (F.A.M.E), he took a year off to tour internationally as a break dancer with The New York Express in a show created by famous choreographer Julie Arenal. After high school, he went on to the Art Center College of Design in Pasadena, California where he earned a B.F.A in Illustration. There, Bua learned the technical skills that allowed him to unleash his creativity. He began his art career by doing slick bottom paintings for skateboards. He went on to develop the characters and backgrounds for the EA Sports video game, "NBA Street."¹
---
Justin Bua Prints @ Amazon >>
All Justin Bua Items @ Amazon >>
---
Justin Bua Books
All Arts & Photography Books >>
---
Related Sites
¹ Complete Bio @ Ace's Bio-Farm.
---
Recommended books on Justin Bua: Beat of Urban Art: The Art of Justin Bua. The Legends of Hip Hop by Justin Bua.