Alfred Gockel Bio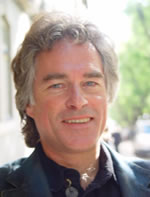 German artist Alfred Gockel has a unique abstract style featuring rich, bold colors, long, fluid brushstrokes, and intense movement. Gockel sold his first artwork to a German publisher when he was 8 years old, later studying typography, graphic design and advertising. He became a full-time painter 22 years ago, creating daring, energetic works in his trademark style. His creative range spans etching to serigraphy, and his images have been used by the porcelain, carpet and sportswear industries.
Alfred Alexander Gockel was born in 1952 in the coal mining community of Ludinghausen in Germany. Both of his parents were creative, his father being a designer and his mother a crafts maker. Fascinated early on by the magic of color on paper, Gockel's talent and enthusiasm lead to the publication of his first artwork when he was eight years old. "We did not have a lot of money when I was growing up," Gockel says. "My parents would take
me to the zoo and I would sit down and paint for hours. They really inspired me to be an artist." Educated in the areas of typography and graphic design at Polytechnic in Munster, where he graduated in 1977, Gockel worked in the advertising industry for many years. During this time, he also lectured at his alma mater in his specialized fields. Wishing to devote more time to his artwork, he established the art publishing firm of Avant Art in 1983.
Bright colors and graceful motion highlighted by powerful black figures and accents mark Gockel's compositions and his distinctive style. "My aim is to paint harmony," he has said. Inspired by society, Gockel's work can be divided into two major categories: unique art work and graphics. His unique art work is mostly oil on canvas, and in some periods he also creates aquarelles. His graphic art is primarily etchings, screen prints and lithographs. When he has the time, he plays tennis, walks in the German forests with his two dogs, rides with his wife on their Harleys, or drives to their favorite spot at the island Sylt. ¹
---
Related Sites
---
Books On Art
All Arts & Photography Books >>
Recommended books on Art: 30,000 Years of Art by Editors of Phaidon; The Collins Big Book of Art: From Cave Art to Pop Art by David G. Wilkins; The Art Book for Children, Book Two (Art Book for Children) by Editors of Phaidon Press; Art & Fear: Observations On the Perils (and Rewards) of Artmaking by David Bayles and Ted Orland; Barron's AP Art History 2008 (Barron's Ap Art History) by John Nici; AP Art History w/CD-ROM (REA) The Best Test Prep for the AP Art History Exam with TESTware (Test Preps) by Frank Chmiel, Larry Krieger, and Barbara McGowran; Janson's History of Art: The Western Tradition by Penelope J.E. Davies, Walter B. Denny, Frima Fox Hofrichter, and Joseph F Jacobs.
---
Available here are these Alfred Gockel posters and prints, among others: Endless Love, Stroking the Keys, Take Five, Wild Party II, Sun Dance, Jazz Explosion II, Don Quixote, Golf, Homage to Kandinsky, Owl, Parrot Parents, Man and Beast, Play-Off, Dancin' the Night Away, First Place, Rhythmus I, Horse, Dream, Right Eye, Poppies, Blinding Light, Right Point, Trap, Frisbee, Standing Ovation, Rhythmus II, Parts of the Whole, Colorful Fish, Lavender Floral Abstract.