Ansel Adams Bio
Ansel Adams, landscape photographer and environmentalist, was born in San Francisco on February 20, 1902. Though he and his family survived the great earthquake of 1906, he was permanently marked by the event when one of its aftershocks threw him to the ground and badly broke his nose. A year later, his family's fortune evaporated as result of the financial panic of 1907. This sudden loss of affluence seems to have effected his parents more than it did him.
Not fitting in at school and feeling selfconscious about his appearance, Adams led a somewhat reclusive childhood. Eventually, he left school and was tutored at home. He displayed early on an appreciation for nature and spent long hours exploring the wonders and wilds of the Golden Gate area.¹
---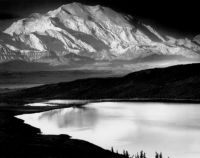 "I don't condemn a snapshot for what it is. I do, however, object to people's making a snapshot and then imposing an aesthetic value on it." ~ Ansel Adams, Playboy Magazine (May 1983)
---
Ansel Adams seamlessly fused extremes of smoothness and ruggedness in "Mt. McKinley Wonder Lake, Denali National Park, Alaska, 1947." Transforming simple black and white photography into an intricate art, Adams (1902 – 1984) expertly blended contrasting textures, forms, shadow and light. An adamant environmentalist, Adams used his photos to raise awareness about preserving nature's beauty, and served as a Sierra Club Director.
Top Ansel Adams Books
1. Ansel Adams: 400 Photographs

2. The Camera (Ansel Adams Photography Series, Book 1)

3. The Negative (Ansel Adams Photography, Book 2)

4. The Print (Ansel Adams Photography, Book 3)

5. National Parks: Photographs from America's Wild Places

6. Examples: The Making of 40 Photographs

7. Ansel Adams in Color

8. Ansel Adams: An Autobiography

9. Yosemite and the High Sierra

10. Yosemite
All Ansel Adams Books >>
All Arts & Photography Books >>
---
Related Sites
¹ Complete Bio @ Ace's Bio-Farm.
---
These are among Ansel Adams' celebrated photographs and prints: Aspens, Northern New Mexico, 1958; Half Dome, Merced River, Winter; Moon and Half Dome, Yosemite National Park, 1960; Tenaya Creek, Dogwood, Rain, Yosemite National Park, Ca 1948; Our National Parks; Mt. McKinley Wonder Lake, Denali National Park, Alaska, 1947; Mt. McKinley Range, Clouds, Denali National Park, Alaska, 1948; Nevada Fall, Rainbow, Yosemite National Park, 1946; Trilogy I I I; Canyon de Chelly; Moonrise, Hernandez, New Mexico, 1941; Monolith, The face of Half Dome, Yosemite National Park, 1927; Pine Forest in Snow, Yosemite National Park, 1932; Oak Tree Sunrise; Rose and Driftwood, San Francisco, California; Birds on a Beach; Aspens, Northern New Mexico, 1958 Authorized Edition; Yosemite National Park; Mt. McKinley Range; El Capitan, Winter Sunrise, Yosemite National Park, 1968; Oak Tree, Sunset City, California, 1932; The Tetons and the Snake River; Bridal Veil Falls, Yosemite National Park; Tenaya Lake, Mt. Conness, Yosemite National Park, 1948; Oak Tree, Snowstorm, Yosemite National Park, 1948; Clearing Winter Storm, Yosemite National Park, 1944; The Scripps Pier; Nevada Fall; Redwoods, Founders Grove; Birds on a Beach; Sand Dunes, Sunrise, Death Valley National Park 1948; Range Clouds; Thunderheads; Pacific Vista; El Capitan, Winter; Tetons And Snake River; Thundercloud, Ellery Lake; Oaktree Sunrise. Books on Ansel Adams: Examples: The Making of 40 Photographs (Paperback) by Ansel Adams, Ansel Adams: An Autobiography (Hardcover) by Ansel Adams Publishing Rights Trust. (www.aceswebworld.com)