Hiroshige Bio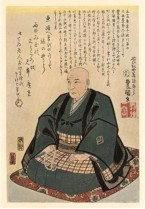 Japanese Ukiyo-e artist, Ando Hiroshige (1797 – 1858) is known for his poetic interpretations of ordinary landscapes. Assuming his father's firefighting job when he was orphaned at age 12, Hiroshige was inspired to become an artist when he saw the works of the rennowned Hokusai. Starting out as a protrait artist, he ultimately achieved fame for his landscapes. His artwork, including his masterpiece, "Fifty-Three Stations of the Tokaido," used unique perspectives, bold colors and realistic depth. When tourism boomed, Hiroshige was inspired by his own travels to create an incredible 5,400 prints.
Hiroshige was a member of the Utagawa school, along with Kunisada and Kuniyoshi. The Utagawa school comprised dozens of artists, and stood at the forefront of nineteenth century woodblock prints. Particularly noteworthy for their actor and historical prints, members of the Utagawa school were nonetheless well-versed in all of the popular genres.
During Hiroshige's time, the print industry was booming, and the consumer audience for prints was growing rapidly. Prior to this time, most print series had been issued in small sets, such as ten or twelve designs per series. Increasingly large series were produced to meet demand, and this trend can be seen in Hiroshige's work, such as The Sixty-nine Stations of the Kisokaid? and One Hundred Famous Views of Edo.
---
I leave my brush in the East and set forth on my journey. I shall see the famous places in the Western Land. ~ Hiroshige
---
In terms of style, Hiroshige is especially noted for using unusual vantage points, seasonal allusions, and striking colors. He adapted Western principles of perspective and receding space to his own works in order to achieve a sense of realistic depth. In particular, he worked extensively within the realm of meisho-e pictures of famous places. During the Edo period, tourism was also booming, leading to increased popular interest in travel. Travel guides abounded, and towns appeared along routes such as the Tokaido, a road that connected Edo with Kyoto. In the midst of this burgeoning travel culture, Hiroshige drew upon his own travels, as well as tales of others' adventures, for inspiration in creating his landscapes.¹
Top Hiroshige Books
1. Hiroshige: Prints and Drawings ~ Matthi Forrer
---
2.
Hiroshige, 100 Views of Edo
---
3.
Hiroshige (25) ~ Adele Schlombs
---
4.
Hiroshige: One Hundred Famous Views of Edo (GO)
---
5.
The Sixty-Nine Stations of the Kisokaido
---
6.
Hiroshige: Master of Nature ~ Gian Carlo Calza
---
7.
Hiroshige's Journey in the 60-Odd Provinces
---
8.
Hiroshige ~ Melanie Trede
---
9.
The Sketchbooks of Hiroshige (Pictorial Archive Series)
---
10.
Hiroshige: Japan's Great Landscape Artist
---
All Arts & Photography Books >>
---
Sites of Interest
THE WOODBLOCK PRINTS OF ANDO HIROSHIGE
---
These are among Hiroshige's best known paintings:
Navaro Rapids, Inlet at Awa Province, Plum Gardenover Shin-Ohashi Bridge, Sudden Shower, View from Satta Suruga, Cherry Blossoms, Drum Bridge, Carp, Eagle Flying over the Fukagama District, View of the Naruto Whirlpools at Awa, Red Maple Leaves at Tsuten Bridge, Kyoto Bridge by Moonlight, Grounds of Kameido Tenjin Shrine, and Kinryuzan Temple at Asakusa. (www.aceswebworld.com)