All Roads Lead to Rocky Mount by Dan Barth Page 1
---
All Roads Lead to Rocky Mount
"The fields are dreaming through Virginia. . . "
~ Thomas Wolfe, "A Prologue to America"

In the summer of 1996, my wife Mary, our son Nate, and I visited our old friends Mike and Helen Toscano in Spring Hope, North Carolina. Spring Hope is only 14 miles from Rocky Mount, known to Jack Kerouac readers for his retreats there to see his sister Caroline, her husband Paul Blake, his nephew, Paul, Jr. and his mother, who was often living with the Blakes. Knowing of my interest in Kerouac, Mike did some reconnoitering before our arrival and found most of the spots that were significant to old Jack during his stays in the Piedmont region of the Tarheel State.
We drove down through Virginia on a typically hot, humid July day. We had spent the night in a motel near Fredricksburg. The previous day we had toured the Smithsonian museums and surrounding points of interest in Washington, D. C.
Here's a picture of Nate goofing in front of the White House.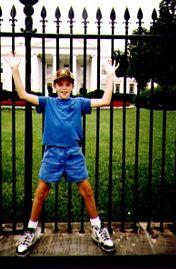 And one of Mary and Nate with our good buddy Abe Lincoln.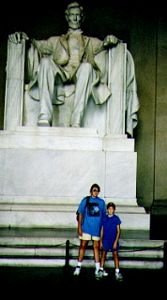 ---

Copyright © 2005- by Daniel Barth. All rights reserved.
Description: On The Road, the most famous of Jack Kerouac's works, is not only the soul of the Beat movement and literature, but one of the most important novels of the century. Like nearly all of Kerouac's writing, On The Road is thinly fictionalized autobiography, filled with a cast made of Kerouac's real life friends, lovers, and fellow travelers.

Books by Jack Kerouac

Jack Kerouac Biographies

Webmaster: Ace Toscano