All Roads Lead to Rocky Mount by Dan Barth
---
All Roads Lead to Rocky Mount
Photos by Daniel Barth, Nate Barth, Mary Miller, Ace Toscano and Helen Toscano

Text by Daniel Barth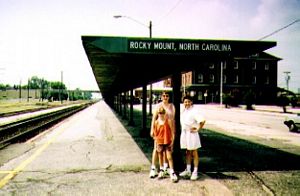 ---
Previous Page | Next Page
Copyright © 2005- by Daniel Barth. All rights reserved.


Sign - Jack Kerouac Street
North Beach District
San Francisco
Cummins, Richard
Buy at AllPosters.com


Books by Jack Kerouac

Jack Kerouac Biographies

Description: One who has written extensively on beat literature, Dan Barth, along with family and friends, takes the Kerouac Tour of Rocky Mount, NC.
Webmaster: Ace Toscano