Click here to buy Sale Posters!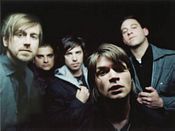 Taking Back Sunday is revered as one of the super groups of the new millennium, but their trip to the top was not without its roadblocks. In February of 2001 the Long Island, New York based group released its self-titled five song EP. Though not a stunning success, it did land them a contract with Victory Records. Victory put them to work on a new album right away, teaming them up with producer Sal Villanueva and engineer Tim Gilles. That collaboration led to their first full-length cd, Tell All Your Friends. It was released in March of 2002.
Promoting their debut album, TBS completed a sold-out summer tour, shot a video, and set out on the Best Revenge Tour along with Recover and Midtown. That's when they encountered their first stumbling block. While dancing around during Midtown's set, Adam Lazzara accidentally fell off the stage cutting his face in two places and dislocating his hip. With the dislocated hip turning out to be a bigger deal than they originally suspected, the band was forced to abandon the tour. They took advantage of the respite by getting to work on new material.
---
"Every night we'd set up to play and be wondering who the kids outside in line could possibly be waiting to see. Then we'd start playing and they knew all the words to our record that had only been out for a few months." ~ Adam Lazzara
---
By 2003 Lazzara was fully recovered and TBS was back to touring again with The Used, and, on rear days off, opening for the likes of New Found Glory and Jimmy Eat World. But, late in 2003, they found themselves facing another hurdle, one that many thought they would not be able to overcome - John Nolan and Shaun Cooper left the band. But, rather than destroy the group, with the additions of Fred Mascherino (guitar/vocals) and Matt Rubano (bass), TBS came out of the transition even stronger. The new line-up finished out the group's fall tour and then went back to the studio to record their follow-up album, Where You Want To Be.
---
"We've always tried to make it so there's no division, no line drawn between what going on the stage and what's going on in the crowd." ~ Adam Lazzara
---
The album's release on July 27, 2004 was accompanied by a blitz of media exposure which included appearances on Jimmy Kimmel Live and Loveline. In addition, their songs, This Photograph Is Proof and Your Own Disaster were included on the Spider-Man 2 soundtrack while Error: Operator was featured on both the Fantastic Four soundtrack and related video games. Where You Want To Be debuted at number 3 on the Billboard Top 200 album chart and captured 163,000 sales.
---
"Some bands, when they get big, get lazy. Our philosophy was 'We're the luckiest dudes in the world to be able to do this.'" ~ Fred Mascherino
---
Perhaps to fortify the image of the new line-up in fans' minds, TBS wasted no time in creating another album. Louder Now was released less than one year after Where You Want To Be on April 25, 2006, this time on the Warner Brothers Label. Again, the release was accompanied by an aggressive promotional campaign which opened with appearances on three of the major nighttime talk shows - Jimmy Kimmel Live, Late Night With Conan O'Brien, and The Tonight Show with Jay Leno.
---
"We don't want to sound like the other bands in our genre. We want to be the band that still rocks." ~ Fred Mascherino
---
While touring the UK in April 2006, the group suffered another bit of bad luck when, during a performance, Adam Lazzara managed to knock out Matt Rubano with his microphone. Though he was forced to leave the stage to get his injuries attended to, he returned later and finished the set bandaged and bloodied.
---
"I think the songs on Louder Now also come across a lot better live than our old stuff. So, in order to experience Louder Now, the best way is definitely the live show. It's where it's at right now. We're playing at our best, the best that we can right now." ~ Fred Mascherino
---
Singles from Louder Now, including MakeDamnSure, Twenty-Twenty Surgery and Liar (It Takes One To Know One) are among the most requested songs on rock radio and the album's sales continue to soar.
On October 30, 2007, the band's former record label, Victory Records, released Notes From The Past, which featured four songs from Tell All Your Friends, six songs from Where You Want to Be, and two b-sides: The Ballad of San Villanueva and Your Own Disaster.
Fred Mascherino, who will now be focusing exlusively on his solo career, has left the group stating as his main reasons the band's musical direction along with their tumultuous history. The band subsequently recruited guitarist and vocalist Matt Fazzi formerly of Facing New York to join the family and they are working on their fourth album.
---
Copyright © 2004- by Ace Toscano. All rights reserved.

(We are not affiliated with sites or advertisers promoted in paid ads appearing on this or any page.)