Click here to buy Sale Posters!

Rolling Stones Biography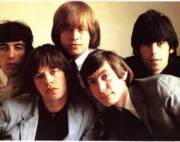 There have been many contributors to the amazing phenomena that is The Rolling Stones but none have been more responsible for the band's enduring success than Keith Richards and Mick Jagger. Having met as children, the pair were reintroduced in 1960 by Dick Taylor who was a classmate of Richards' at Sidcup Art School. At the time, Jagger, an economics student, was playing blues with Taylor in the band Little Boy Blue and the Blue Boys. Richards joined the group and shortly afterward he and Jagger met Brian Jones, a precocious talent already well-known on the British blues scene. They played at the same clubs and eventually started playing together with Dick Taylor. Their first performance as the Rolling Stones came on July, 12, 1962 at London's Marquee Club. The lineup at the time was Jagger, Jones, Richards, Ian Stewart, Mick Avory, and Dick Taylor. Avory and Taylor would leave shortly thereafter and were replaced by Bill Wyman and Charlie Watts.
---
"It was a magical time because I actually managed to turn my little juvenile fantasies into a way of life." ~ Keith Richards
---
It was in 1963, during an eight month stint at the Crawdaddy Club, that the band came to the attention of promoter Andrew Loog Oldham. It was he who fashioned the Rolling Stones into a raunchy, gritty and often shocking alternative to the Beatles. The bad-boys-of-rock-and-roll image served them well, especially in the US where the hippie generation was rebelling against just about everything. With the charismatic Jagger as its frontman, the groups popularity swelled and they would remain prominent atop the rock world for decades.
---
"I never intended to be a sex symbol. I never really wanted to sort of get into pushing that particular aspect of myself because I thought of myself as a serious musician. I didnít want to be a stripper. But then I turned out to be one. Just another girl on the runway." ~ Mick Jagger
---
The Stones have enjoyed an amazing recording career. Among their many successful albums are Beggars Banquet (1968), Let It Bleed (1969), Sticky Fingers (1971), Exile on Main Street (1972), and Steel Wheels (1989). But, their tours and live performances are what fueled their reputation as the World's Greatest Rock and Roll Band. The 90's saw their promotional Steel Wheels tour gross over 140 million dollars and break box office records at just about every venue. And the 1994 Voodoo Lounge tour was even more successful.
---
"The band is getting better & better. The guys are knocking me out, ya know. And that makes me happy and when I'm happy it keeps everybody else happy because when I'm unhappy, forget about it." ~ Keith Richards
---
The Rolling Stones have had their ups and downs over the years with member changes, spats, drug problems and even a few arrests. (Hey, what do you expect from a raunchy bunch of bad boys.) Yet, it appears that Jagger and Richards have not had their fill. The resilient duo may take a break from time to time, but in reality they are only resting up for their next tour.
---
Copyright © 2004- by Ace Toscano. All rights reserved.

(We are not affiliated with sites or advertisers promoted in paid ads appearing on this or any page.)