Click here to buy Sale Posters!

System of a Down Biography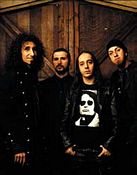 "What we do is what we do, and we do it our way. We enjoy playing music and we decide to deal with things in the lyrics that are important. We don't want to compromise and we don't have to. For us it's important to spread the message and we have to accept that not everybody gets it, but it's important to do it, and even if just a few get it, that's still better than doing nothing. Some do and that's what counts."
So says Shavo Odadjian in reference to System of a Down's brand of finely-crafted driving heavy metal that also expounds on social and political issues.
An alternative metal band that emerged in Los Angeles in the mid 90's, along with bands like Korn and Coal Chamber, System of a Down was considered to be part of the Californian heavy-metal explosion.
---
"We're really an honest band - that's why people are listening to us. We're not bullshitting ourselves and we're not bullshitting them." ~ Daron Malakian
---
Their early influences include the heavy metal veterans Ozzy, Black Sabbath and Slayer, as well as Metallica, Korn, the Dead Kennedys and Bad Brains. But the group has also been influence by jazz, fusion, classic rock, blues, and industrial metal, not to mention the folk music of their native Armenia and Lebanon.
Vocalist Serj Tankian, guitarist Daron Malakian, bassist Shavo Odadjian and drummer John Dolmayan quickly earned a strong following in Los Angeles and, as their three-song demo circulated among metal heads, their fan base expanded throughout America and Europe and as far away as New Zealand. By the end of 1997, the group had signed with American. American/Columbia released the group's debut album, A System Of A Down, in the summer of 1998. This led to gigs as openers on the Slayer and Ozzfest tours. "We just can't thank Slayer enough. They made us feel so welcome and gave us such great support," said Serj Tankian. "Whenever we opened, there was always at least one of them there to watch our performance and that made us feel a lot better."
---
"I think you do what you're destined to do. If you follow your heart and you follow your path, then you'll always be safe with anything that you do, including art." ~ Serj Tankian
---
"Sugar" and "Spiders", singles off their debut album, were moderately successful. Their break through came with their second album, Toxicity, which debuted at #1 on the American and Canadian charts and eventually went multi-platinum. It should be noted that Toxicity was the number one album in the U.S. the week of the 9-11 attacks.
Tracks from Toxicity, like "Chop Suey!", "Toxicity", "Aerials", received a lot of radio air time, as did "Innervision" from Steal This Album!, their third album. The name, Steal This Album!, refers to the fact that most of the songs, tracks recorded during the Toxicity sessions, had been leaked to the internet and were available for free. The CD had five different designs, one by each group member, and one that resembled a home made disk.
---
"It is important for us to rally support for causes no matter what they are so long as they are just causes. If you do the right thing having to do with labor, you'll have less environmental issues; if you do the right thing with the environment, you'll have less social injustices -- it's all connected." ~ Serj Tankian
---
In 2004, the band recorded two brand new albums for release in 2005. The first, Mezmerize, was released May 16, 2005. The other half will come out in November, 6 months later. Mezmerize, featuring songs written by both Tankian and Malakian, was an immediate blockbuster with the hit track "B.Y.O.B" fueling sales in the U.S. and abroad. They are currently on tour in the U.S.
---
"Our music has always been urgent, critical and questioning, and that still remains." ~ Serj Tankian
---
The politically conscious SOAD donated special VIP Ticket Packages for all dates on their USA Tour to Amnesty International who will auction them off. Each VIP Ticket Package includes Two VIP Area Passes to view the show from a very special location and one signed copy of Mezmerize.
---
"Amnesty International has been very instrumental in bringing attention to the plight of political prisoners around the globe, and in some cases creating the conditions of their release. In the age of the Globalist agenda, Amnesty is an invaluable cause of action." - Serj Tankian
---
SOAD took part in 2006 Ozfest XI joining Ozzy Osbourne, Disturbed, Hatebreed, Lacuna Coil and others. For the 2007 Grammys, SOAD was nominated for Best Hard Rock Performance for "Lonely Day", but lost to Wolfmother and their song "Woman".
Despite the fact that the members have been more or less working on their own lately, Shavo Odadjian recently told Launch Radio Networks that System of a Down is "alive and well. We're just not working together right now. We kind of like split up at first, but you know, we're brothers, man, we'll take bullets for each other. So it's like, you kind of miss each other after a while and you, one guy makes the first move, then another starts making phone calls....this is a juggernaut, man. System of a Down is my lifeline. It'll never go away. We could not make a record for 10 years — that's not gonna happen, but I'm just saying we could — and we'll come back strong."
(In May 2006, the band announced they were going on hiatus. Daron Malakian has confirmed the break will probably last a few years, but it was Shavo who in an interview with Guitar magazine said it will last at least 3 years, but insists that the band would not be splitting up. He told MTV, "We're not breaking up. If that was the case, we wouldn't be doing this Ozzfest. We're going to take a very long break after Ozzfest and do our own things. We've done System for over ten years, and I think it's healthy to take a rest." ~ wikipedia.org)
---
Copyright © 2004- by Ace Toscano. All rights reserved.

(We are not affiliated with sites or advertisers promoted in paid ads appearing on this or any page.)