Click here to buy Sale Posters!

No Doubt Biography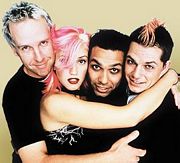 One of the most durable groups, No Doubt's roots go back to the late 1980's when John Spence, Eric Stefani and his sister Gwen formed a ska band and played the Anaheim party circuit. In early 1987, Tony Kanal, then a high school junior, caught No Doubt's act at Fender's Ballroom in Long Beach and soon after tried out and became the group's bass player. By summer, he had become the group's unofficial manager.
---
"It's the hardest thing in the world just to be simple, to let the music and the words speak for what you're feeling and, hopefully, to share that feeling." ~ Gwen Stefani describing the music of No Doubt
---
The group survived John Spence's suicide in December of 1987, though their initial reaction was to break up. In the spring of 1988, they were joined by heavy metal guitarist Tom Dumont. They built a considerable following opening for The Untouchables and Fishbone, as well as playing their own gigs. After shows they sold 3 and 5-song demo tapes. It was from the back of one of these tapes that Adrian Young found the phone number he called to get himself an audition as drummer. Though he exaggerated his experience, the group though he was a good fit and brought him on board.
No Doubt quickly evolved into a solid five-piece unit, expanding their sound to include the styles of each member. With shows opening for the Red Hot Chili Peppers, Ziggy Marley and Mano Negra, their fan base broadened to the college crowd and they were signed by Interscope Records in 1991.
The band's 1992 debut album, an odd fusion of '80s pop and ska, produced a weak blip as the music scene became dominated by the grunge movement. Interscope halted No Doubt's tour and stopped further recordings. So, the band recorded on their own during 1993-94, and self-released The Beacon Street Collection, a much rawer and more punk-inspired effort. Gwen's brother, Eric Stefani, left the group just after its release. He later worked as an animator for The Simpsons.
Interscope allowed recordings to resume in late 1994, and Tragic Kingdom, an album documenting the breakup of Gwen Stefani's and Kanal's seven year relationship was released in October 1995. Due to energetic touring and the featuring of "Just a Girl" and "Spiderwebs" on MTV's Buzz Bin, the album hit the Top Ten in 1996. Stefani, satisfying her pop ambitions, was a welcomed change from the tough broads dominating the charts and Tragic Kingdom reached number one on the album charts by year's end. The album's third single, "Don't Speak," was the band's biggest hit yet.
---
"After fifteen years together you naturally create all kinds of rules about how things should be. There comes a time when you've got to throw the rules out and start all over again. That's what keeps it fun and interesting. For us that time has come." ~ Gwen Stefani describing the material on Rock Steady
---
The Return of Saturn, No Doubt's follow up album, was released in the spring of 2000. "Simple Kind of Life" and "Ex-Girlfriend" were both hits at the mainstream and college levels. A year later, Stefani stepped away from the group and hooked up with rap artist, Eve for the single "Let Me Blow Your Mind" (it earned a Grammy for "Best Rap/Sung Collaboration" in 2002). However, Stefani rejoined her band for the release of their fifth album, Rock Steady with its ska-revival and new wave sounds. It was issued hot on the heels of debut single "Hey Baby."
Love, Angel, Music, Baby, Gwen Stefani's recent solo effort, picks up where the hit Hella Good (from No Doubt's "Rock Steady") left off. As they used to say on American Bandstand, "it's got a good beat and it's easy to dance to." Having climbed to the top ten of Billboard's Top 200, the album's 12 tracks are obviously finding homes on dance floors everywhere.
Gwen and Gavin Rossdale welcomed the arrival of their first child, Kingston James McGregor Rossdale, weighing 7.5 lbs, on May 26, 2006.
On December 5, 2006, Gwen Stefani released her second solo album, The Sweet Escape. With Stefani busy with a national tour in 2007, No Doubt has begun initial work on a new album without her and plans to complete it after Gwen's tour is over.
In May of 2009, No Doubt will embark on it's first tour in five years, enlisting Paramore as its opening act. The Sounds, Janelle Monae and Bedouin Soundclash will rotate as the third band on the bill. "The whole reason for going on this tour was to have fun, try on all our favorite songs again and to get inspired to make new music," said Gwen Stefani. "It feels good to be all together again."
---
Copyright © 2004- by Ace Toscano. All rights reserved.

(We are not affiliated with sites or advertisers promoted in paid ads appearing on this or any page.)