Starwars Standups Starwars Fathead Wall Graphics
George Lucas Bio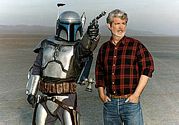 After his first twenty years as a filmmaker, George Lucas could lay claim to creating (along with close friend Steven Spielberg) eight of the ten most popular motion pictures of all time. Such success is the stuff of legend, but it's also the stuff of dreams. By following through on his passions and letting his imagination run full rein, Lucas has been able to fulfill many personal fantasies, and, in doing so, has created countless others for his many fans.
Like so many of his celluloid heroes, Lucas's beginnings were relatively humble. A California lad with a "Midwestern kind of upbringing"--as he himself put it once--Lucas occupied himself by helping out his father (a stationery store owner) until a childhood pal convinced him to take the entrance exams at USC (University of Southern California), for admission to their cinema school. Lucas was accepted and so began one of filmdom's most magical -- and successful -- careers.
While taking his first production course at the university, Lucas made a one-minute short titled Look at Life (1965), which consisted of images flashing on the screen at dazzling speeds (a process called "kinestasis"). The film won award after award at various film festivals, and was a major turning point in the life of George Lucas.
Deciding to pursue a master's degree at USC, Lucas subsequently entered some of his work in the 1967-68 National Student Film Festival. His short film THX-1138:4EB won first prize in the drama category, while two other shorts, The Emperor and 6.18.67,won prizes in the documentary and experimental categories, respectively.
George Lucas, with the now legendary success of his Star Wars films, has established himself as one of filmdom's icons -- and it all started with a one-minute short. (Bio from amctv.com)
Star Wars standup movie posters at Ace's Web World. Available on this page are the following life-size standup (stand up, standing) movie posters: Yoda, R2-D2 & C-3PO, Darth Vader, General Grievous, Jango Fett, Chewbacca, Obi-Wan Kenobi, Clone Trooper, Boba Fett, Luke Shywalker, Talking Qui-Gon Jin, Jar Jar Binks, Princess Leia, Mace Windu, Jawa, Han Solo, Drth Sidious, Talking Commander Battle Droid, Talking Queen Amidala, Battle Droid, Imperial Royal Guard, Zam Wesell. In addition to three pages of standup movie posters, we have pages devoted to movie posters and movie t-shirts.
Star Wars Standup Posters & Cardboard Cutouts
Star Wars Life-Size Fathead Posters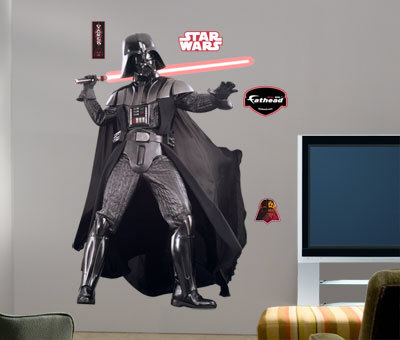 Darth Vader -Fathead Wall Sticker
77 in. x 50 in.
Buy at AllPosters.com

Yoda - Fathead Wall Sticker
Stormtrooper - Fathead Wall Sticker
Chewbacca - Fathead Wall Sticker
All Starwars Giant Fathead Graphics
© Copyright 2003- by Ace Toscano. All rights reserved.