Ed McBain (Evan Hunter) Biography
Ed McBain (Salvatore A Lombino), writer, born October 15 1926; died July 6 2005. Like all his fans, I am saddened by his departure... and wish him a happy landing. (obit.)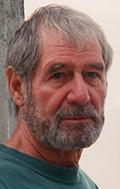 Widely Credited with being the inventor of the modern police procedural, Ed McBain/Evan Hunter published his first 87th Precinct novel, Cop Hater, in 1956. Though he insisted that Isola, the gritty city in all his Precinct novels--there are now more than 50--was imaginary, everyone knew he was writing about his hometown: Manhattan. Not only are his police dramas based on years of primary research riding in patrol cars and visiting morgues, cop bars, and squad rooms, the authenticity of his locale is clearly a product of intense personal familiarity. It is interesting to note tha Isola means "island" in Italian. Manhattan is an island, and McBain/Hunter just happened to be of Italian descent -- he was born Salvatore Lombino.
He was the first American ever to receive the Diamond Dagger, the British Crime Writers Association's highest award. He also held the Mystery Writers of America's prestigious Grand Master Award.¹
Evan Hunter's writing career spanned almost five decades, from his first novel, The Blackboard Jungle, in 1954 to the screenplay for Alfred Hitchcock's The Birds to Candyland, written in tandem with his alter ego, Ed McBain, to his most recent novel, The Frumious Bandersnatch. Hunter/McBain spent his last years in Weston, Connecticut with his wife, Dragica. He spent his mornings hard at work on his latest Evan Hunter novel in progress, then would change hats to write as Ed McBain after lunch.
Much of the preceding was taken from the novel "Ice" in the section entitled About the Author by Tom Clemmons, Editor.
---
Copyright © 2004- by Ace Toscano. All rights reserved.

(We are not affiliated with sites or advertisers promoted in paid ads appearing on this or any page.)