Click here to buy Sale Posters!

Coldplay Bio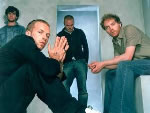 Coldplay was formed in January 1998 by four University College London students - vocalist Chris Martin (b. March 2, 1977), guitarist Jon Buckland (b. September 11, 1977), bassist Guy Berryman (b. April 12, 1978), and drummer Will Champion (b. July 31, 1978). They had met their first week of school.
---
"I wanna live life, never be cruel, I wanna live life, be good to you. I wanna fly, never come down, And live my life, And have friends around." ~ from We Never Change
---
Self-financed demo sessions led to the production of their
Safety
EP in May of that year. One of the tracks,
Bigger Stronger
, earned the band excellent notices in the UK press. They appeared at September's "In The City" showcase for unsigned bands in Manchester, but it was at a performance at London's Camden Falcon in December that they made their mark. There, they were watched by influential journalist and Fierce Panda Records co-founder Simon Williams. Fierce Panda issued the
Brothers and Sisters
EP and released it a year later.
Though both EPs, Safety and Brothers and Sisters, saw limited production, they were well received and resulted in a deal with Parlophone in April 1999. A limited-edition five-track, The Blue Room EP, followed that fall. With endearing nods from the media who loved the group's simplistic acoustics and charming personas the foursome was hailed as the next Travis. Shiver and Yellow, two more EPs, were released in the spring of 2000.
---
"In my mind, when God made women, he did an amazing job. I think girls are just perfect." ~ Chris Martin
---
When
Parachutes
, their first full-length album, was released in the U.K., an eager nation quickly surrendered their hearts to the group's simple yet beautiful songs. Coldplay found themselves hailed as the U.K.'s Band of the Year 2000.
Parachutes
was released in the U.S in November of 2000. ABC Television's decision to use
Yellow
as the theme for all their promo spots brought Coldplay into the mainstream of American music. Their popularity soared throughout 2001 and their 10 date U.S. tour sold out.
As they toured, Coldplay was followed by rumors of a breakup. Chris Martin's voice appeared to be wearing out and he suffered a series colds. These illnesses led to the cancellation of several U.S. concert dates and an entire European tour. Nevertheless, the group resumed playing in mid 2001 and released another single, Trouble.
---
"Well, everyone — we want to be the best band of all time. Of course that sounds ridiculous, but that really is the force that drives us, and we might never get there, but it's a good force to have driving you 'cause it means that we want to work harder and harder and harder." ~ Chris Martin
---
That fall they began work on their second album,
A Rush of Blood to the Head
. It was released in the summer of 2002 to the accompaniment of rumors that it would be the group's last. But Coldplay carried on at their own pace. A follow up album has been in the works for some time. Its release has been pushed back to late June of 2005 as the group tries earnestly to make it their best album ever.
---
"It's always the same with us: The best stuff comes when we start to panic." — Coldplay's Will Champion
---
The band performed at a surprise Friday night show at the Troubador in West Hollywood on March 11, 2005. Their new album
X&Y;
was released on June 6th, 2005. The first single from the album,
Speed of Sound
, was released on May 23rd. Sales were huge.
The group performed at the 2006 Grammies, but, despite several nominations, they failed to capture an award. However, Viva La Vida, released in June, 2008, reaffirmed the Coldplay's preeminence among pop groups and earned them three Grammys at the 2009 ceremony.
---
Copyright © 2004- by Ace Toscano. All rights reserved.

(We are not affiliated with sites or advertisers promoted in paid ads appearing on this or any page.)