Click here to buy Sale Posters!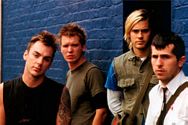 Yes, he is an accomplished screen actor whose credits include "Requiem For A Dream," "Panic Room," "Fight Club," "American Psycho," "Alexander" and the popular '90s TV series "My So-Called Life;" but frontman Jared Leto is not just another actor-turned-rocker and 30 Seconds To Mars is far from being just another Hollywood hobby band.
30STM was launched in 1998 as a family project by brothers Jared and Shannon Leto. Their project soom gathered momentum when they were joined by Matt Wachter, who played bass and keyboard. Joined by studio guitarrists, they soon turned their engergies toward recording.
---
"Acting, I am saying someone else's words. You are really just a small part of a huge collaboration. Music is much more yourself. I am me when I go on stage. Those are my words and my actions. When you are doing film you are inhabiting the world of a character for a short time." ~ Jared Leto
---
Despite being unknown, their first, self-titled, album created quite a stir. Even before it was released in 2002, Puddle of Mudd invited them to join them on a six-week tour as the opening act. With their imaginative lyrics and pulsating rhythms it was obvious that 30STM was serious about their music and their fan base was energized.
---
"I've always been inspired by bands that express different emotions and paint vivid pictures with sound - like U2, The Cure, Zeppelin, Pink Floyd. But we're also interested in being as modern as we can. We're striving to do something different, to look forward rather than back, to be free from the shadows of our inspiration, and to continue, with our voice to make our mark." ~ Jared Leto
---
By the time they got to work on their second album, Tomo Milicevic had stepped into the guitarrist role, thus solidifying the lineup.
A Beautiful Lie
marked the clear evolution of 30STM to supergroup status.
---
"We needed this album to be something that re-set the bar for us. As proud as we are of our previous efforts, I really wanted to destroy the first record by making a second one. The last thing we wanted to do was make the same record twice." ~ Jared Leto on A Beautiful Lie
---
A Beautiful Lie's
promotional tour pushed the group to four continents. They returned as seasoned performers and Jared Leto had emerged as the ideal frontman. The album was certified gold in August of 2006. At the MTV Video Music Awards, on August 31, 30STM won an MTV2 Award for "The Kill," a video loosely based on "The Shining."
---
"The grandiosity of Pink Floyd and the energy of the Sex Pistols." ~ Matt Wachter, when asked to describe 30STM live
---
In September of 2006, 30STM appeared along with Shinedown, Blue October, Seether, Fallout Boy, Anberlin, Jack's Mannequin and Coheed & Cambria on The 97X Green Room: Volume 2, an album produced by 97X FM, my favorite rock station here in Tampa. The cover art was created by Jared Leto.
In October 2006, 30 STM joined Head Automatica, The Receiving End of Sirens, Cobra Starship, and several other bands for the "Welcome to the Universe" tour, sponsored by MTV2. On November 20, MTV2 premiered the group's "From Yesterday" video. It is the first American rock video to be filmed in Communist China.
On March 1, 2007, during a show in El Paso, Texas, 30 STM announced that the show would be the last for Matt Wachter who was leaving the group to spend more time with his family. He has since joined Angels and Airwaves. Wachter has been replaced by Tim Kelleher. It is yet unclear if this addition will be temporary or permanent.
---
Copyright © 2004- by Ace Toscano. All rights reserved.

(We are not affiliated with sites or advertisers promoted in paid ads appearing on this or any page.)