John Tyler (April 4, 1841 - March 4, 1845)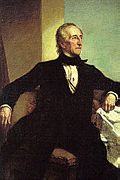 John Tyler, Jr. (March 29, 1790 - January 18, 1862) was the tenth President of the United States. A long-time Democrat-Republican, he was elected Vice President on the Whig ticket and on becoming president in 1841, broke with that party. His term as Vice President began on March 4, 1841 and one month later, on April 4, incumbent President William Henry Harrison died of what is today believed to have been viral pneumonia. Harrison's death left Tyler, the federal government, and the American nation briefly confused on the process of succession. Opposition members in Congress argued for an acting caretaker that would continue to use only the title Vice President. The act of taking over as official president, rather than as acting president, came from the influence of the Harrison cabinet and some members of Congress. Members of Harrison's cabinet feared an acting leader would compromise the ability to successfully run the country. Tyler took the presidential oath of office, initiating a custom that would govern future successions, and became the first U.S. vice president to assume the office of president upon the death of his predecessor. It was not until 1967, that Tyler's action of assuming full powers of the presidency was legally codified in the Twenty-fifth Amendment. His most famous achievement was the annexation of the Republic of Texas in 1845. Tyler was the first president born after the adoption of the U.S. Constitution.¹
Quotes
"Popularity, I have always thought, may aptly be compared to a coquette-the more you woo her, the more apt is she to elude your embrace."
"Wealth can only be accumulated by the earnings of industry and the savings of frugality."
"Let it be henceforth proclaimed to the world that man's conscience was created free; that he is no longer accountable to his fellow man for his religious opinions, being responsible therefore only to his God."
"So far as it depends on the course of this government, our relations of good will and friendship will be sedulously cultivated with all nations."
Noteworthy Sites
"An investment in knowledge always pays the best interest." ~ Benjamin Franklin
read more
If you would like to read more about history and the presidents, visit our history bookstore.

... a thousand words
Bring history and education to life with posters and art prints in the following categories:
"To read without reflecting is like eating without digesting." ~ Edmund Burke