Theodore Roosevelt (1901-1909)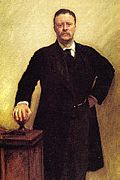 Theodore Roosevelt, Jr. (October 27, 1858 - January 6, 1919), also known as T.R., and to the public (but never to friends and intimates) as Teddy, was the twenty-sixth President of the United States, and a leader of the Republican Party and of the Progressive Movement. He became President of the United States at the age of 42. He served in many roles including Governor of New York, historian, naturalist, explorer, author, and soldier. Roosevelt is most famous for his personality: his energy, his vast range of interests and achievements, his model of masculinity, and his "cowboy" persona. His last name, often mispronounced in his day before he and his relatives made it famous, is, per Roosevelt, "pronounced as if it were spelled 'Rosavelt', in three syllables, the first syllable as if it was 'Rose.'" As Assistant Secretary of the U.S. Navy, he prepared for and advocated war with Spain in 1898. He organized and helped command the 1st U.S. Volunteer Cavalry Regiment, the Rough Riders, during the Spanish-American War. Returning to New York as a war hero, he was elected Republican governor in 1899. He was a professional historian, a lawyer, a naturalist and explorer of the Amazon Basin; his 35 books include works on outdoor life, natural history, the American frontier, political history, naval history, and his autobiography.¹
Quotes
"A man who has never gone to school may steal from a freight car; but if he has a university education, he may steal the whole railroad."
"A man who is good enough to shed his blood for his (the) country is good enough to be given a square deal afterwards."
"Behind the ostensible government sits enthroned an invisible government owing no allegiance and acknowledging no responsibility to the people."
"Germany has reduced savagery to a science, and this great war for the victorious peace of justice must go on until the German cancer is cut clean out of the world body."
"Every immigrant who comes here should be required within five years to learn English or leave the country."
"When they call the roll in the Senate, the Senators do not know whether to answer "Present" or "Not guilty.""
Noteworthy Sites
"An investment in knowledge always pays the best interest." ~ Benjamin Franklin
read more
If you would like to read more about history and the presidents, visit our history bookstore.

... a thousand words
Bring history and education to life with posters and art prints in the following categories:
"To read without reflecting is like eating without digesting." ~ Edmund Burke