James K. Polk (March 4, 1845 - March 4, 1849)
James Knox Polk (November 2, 1795 - June 15, 1849) was the eleventh President of the United States. Polk was born in Mecklenburg County, North Carolina, but mostly lived in and represented the state of Tennessee. A Democrat, Polk served as Speaker of the House (1835-1839) and Governor of Tennessee (1839-1841) prior to becoming president.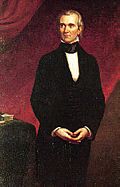 A firm supporter of Andrew Jackson, Polk was the last "strong" pre-American Civil War president. Polk is noted for his foreign policy successes. He threatened war with Britain then backed away and split the ownership of the Northwest with Britain. He is even more famous for leading the successful Mexican-American War. He lowered the tariff and established a treasury system that lasted until 1913. A "dark horse" candidate in 1844, he was the first president who retired after one term and did not seek re-election. He died three months after his term ended.
As a Democrat committed to geographic expansion (or "Manifest Destiny"), he overrode Whig objections and was responsible for the largest expansion of the nation's territory. It exceeded the Louisiana Purchase. Polk secured the Oregon Territory (including Washington, Oregon and Idaho), then purchased 1.2 million square miles (3.1 million km²) through the Treaty of Guadalupe Hidalgo that ended the Mexican-American War. In the end, Polk completed the acquisition of most of the current contiguous 48 states.
The expansion re-opened a furious debate over allowing slavery in the new territories. The controversy was inadequately arbitrated by the Compromise of 1850, and only found its ultimate resolution on the battlefields of the U. S. Civil War. Polk signed the Walker Tariff that brought an era of near free trade to the country until 1861. He oversaw the opening of the U.S. Naval Academy and the Smithsonian, the groundbreaking for the Washington Monument, and the issuance of the first postage stamps in the United States, introduced by his Postmaster General Cave Johnson. He was the first President of the United States to be photographed frequently while in office. Scholars have ranked him 8th to 12th on the list of greatest presidents for his ability to set an agenda and achieve all of it.¹
Quotes
"No president who performs his duties faithfully and conscientiously can have any leisure."
"The passion for office among members of Congress is very great, if not absolutely disreputable, and greatly embarrasses the operations of the Government. They create offices by their own votes and then seek to fill them themselves."
"Peace, plenty, and contentment reign throughout our borders, and our beloved country presents a sublime moral spectacle to the world..."
"One great object of the Constitution was to restrain majorities from oppressing minorities or encroaching upon their just rights."
Noteworthy Sites
"An investment in knowledge always pays the best interest." ~ Benjamin Franklin
read more
If you would like to read more about history and the presidents, visit our history bookstore.

... a thousand words
Bring history and education to life with posters and art prints in the following categories:
"To read without reflecting is like eating without digesting." ~ Edmund Burke