Barack Obama

(2009 -)

Barack Hussein Obama II (born August 4, 1961) is the forty-fourth and current President of the United States. He is the first African American to hold the office. Obama was the junior United States Senator from Illinois from 2005 until he resigned following his election to the presidency. He was inaugurated as President on January 20, 2009 and won election to a second term in November of 2012.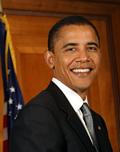 Obama is a graduate of Columbia University and Harvard Law School, where he was the first African American president of the Harvard Law Review. He worked as a community organizer in Chicago prior to earning his law degree, and practiced as a civil rights attorney in Chicago before serving three terms in the Illinois Senate from 1997 to 2004. He also taught Constitutional Law at the University of Chicago Law School from 1992 to 2004. Following an unsuccessful bid for a seat in the U.S. House of Representatives in 2000, Obama was elected to the Senate in November 2004.¹
In October of 2009, President Obama was awarded the Nobel Peace Prize. In a statement, The Nobel Committee noted the following:
"The Norwegian Nobel Committee has decided that the Nobel Peace Prize for 2009 is to be awarded to President Barack Obama for his extraordinary efforts to strengthen international diplomacy and cooperation between peoples. The Committee has attached special importance to Obama's vision of and work for a world without nuclear weapons."
Obama is the third sitting U.S. president to be named winner of the Nobel Peace Prize - President Theodore Roosevelt won in 1906 for drawing up the peace treaty between Russia and Japan and President Woodrow Wilson was awarded the prize in 1919 for founding The League of Nations.
Quotes
"A good compromise, a good piece of legislation, is like a good sentence; or a good piece of music. Everybody can recognize it. They say, 'Huh. It works. It makes sense.'"
"Focusing your life solely on making a buck shows a certain poverty of ambition. It asks too little of yourself. Because it's only when you hitch your wagon to something larger than yourself that you realize your true potential."
"If the people cannot trust their government to do the job for which it exists - to protect them and to promote their common welfare - all else is lost."
"The true test of the American ideal is whether we're able to recognize our failings and then rise together to meet the challenges of our time. Whether we allow ourselves to be shaped by events and history, or whether we act to shape them."
Noteworthy Sites
"An investment in knowledge always pays the best interest." ~ Benjamin Franklin
read more
If you would like to read more about history and the presidents, visit our history bookstore.

... a thousand words
Bring history and education to life with posters and art prints in the following categories:
"To read without reflecting is like eating without digesting." ~ Edmund Burke