James Monroe (March 4, 1817 - March 4, 1825)
James Monroe (April 28, 1758 - July 4, 1831) was the fifth President of the United States. His administration was marked by the acquisition of Florida (1819); the Missouri Compromise (1820), in which Missouri was declared a slave state; and the profession of the Monroe Doctrine (1823), declaring U.S. opposition to Europe an interference in the Americas, as well as breaking all ties with France remaining from the War of 1812.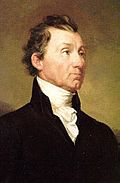 In both those elections Monroe ran nearly uncontested. To detail, well prepared on most issues, non-partisan in spirit, and above all pragmatic, Monroe managed his presidential duties well. He made strong Cabinet choices, naming a southerner, John C. Calhoun, as Secretary of War, and a northerner, John Quincy Adams, as Secretary of State. Only Henry Clay's refusal kept Monroe from adding an outstanding westerner. Most appointments went to deserving Democratic-Republicans, but he did not try to use them to build the party's base. Indeed, he allowed the base to decay, which reduced tensions and led to the naming of his era as the "Era of Good Feelings". To build good will, he made two long tours in 1817. Frequent stops allowed innumerable ceremonies of welcome and good will. The Federalist Party dwindled and eventually died out, starting with the Hartford Convention. Practically every politician belonged to the Democratic-Republican Party, but the party lost its vitality and organizational integrity. The party's Congressional caucus stopped meeting, and there were no national conventions.
These "good feelings" endured until 1824, when he executed the controversial Monroe Transfer. Monroe, with his popularity undiminished, followed nationalist policies. Across the commitment to nationalism, sectional cracks appeared. The Panic of 1819 caused a painful economic depression. The application for statehood by the Missouri Territory, in 1819, as a slave state failed. An amended bill for gradually eliminating slavery in Missouri precipitated two years of bitter debate in Congress. The Missouri Compromise bill resolved the struggle, pairing Missouri as a slave state with Maine, a free state, and barring slavery north and west of Missouri forever.¹
Quotes
"The American continents ... are henceforth not to be considered as subjects for future colonization by any European powers."
"A little flattery will support a man through great fatigue."
"To impose taxes when the public exigencies require them is an obligation of the most sacred character, especially with a free people."
"In the wars of the European powers in matters relating to themselves we have never taken any part, not does it comport with our policy so to do. It is only when our rights are invaded or seriously menaced that we resent injuries or make preparation for our defence."
Noteworthy Sites
"An investment in knowledge always pays the best interest." ~ Benjamin Franklin
read more
If you would like to read more about history and the presidents, visit our history bookstore.

... a thousand words
Bring history and education to life with posters and art prints in the following categories:
"To read without reflecting is like eating without digesting." ~ Edmund Burke