John F. Kennedy (1961-1963)
The 35th President of the United States, serving from 1961 until his assassination in 1963, John Fitzgerald Kennedy (May 29, 1917-November 22, 1963) was an icon of American hopes and aspirations; he continues to rank highly in public opinion ratings of former U.S. presidents.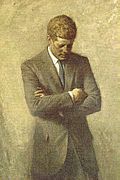 After Kennedy's military service as commander of the USS PT-109 during World War II in the South Pacific, his aspirations turned political. Kennedy represented the state of Massachusetts in the U.S. House of Representatives from 1947 to 1953 as a Democrat, and in the U.S. Senate from 1953 until 1961. Kennedy defeated former Vice President and Republican candidate Richard Nixon in the 1960 U.S. presidential election, one of the closest in American history. He is the youngest man and the only practicing Roman Catholic to be elected President. To date he is also the only President to have won a Pulitzer Prize.[1] Events during his administration include the Bay of Pigs Invasion, the Cuban Missile Crisis, the building of the Berlin Wall, the Space Race, the American Civil Rights Movement and early events of the Vietnam War.
Kennedy was assassinated on November 22, 1963, in Dallas, Texas. Lee Harvey Oswald was charged with the crime, but was murdered two days later by Jack Ruby before he could be put on trial. The Warren Commission concluded that Oswald had acted alone in killing the president; however, the House Select Committee on Assassinations declared in 1979 that there was more likely a conspiracy that included Oswald. The entire subject remains controversial, with multiple theories about the assassination still being debated. The event proved to be a defining moment in U.S. history because of its impact on the nation and the ensuing political repercussions.¹
Quotes
"A man may die, nations may rise and fall, but an idea lives on."
"Let every nation know, whether it wishes us well or ill, that we shall pay any price, bear any burden, meet any hardship, support any friend, oppose any foe to assure the survival and the success of liberty."
"Our most basic common link is that we all inhabit this planet. We all breathe the same air. We all cherish our children's future. And we are all mortal."
"The path we have chosen for the present is full of hazards, as all paths are. The cost of freedom is always high, but Americans have always paid it. And one path we shall never choose, and that is the path of surrender, or submission."
"When power leads man toward arrogance, poetry reminds him of his limitations. When power narrows the area of man's concern, poetry reminds him of the richness and diversity of existence. When power corrupts, poetry cleanses."
Noteworthy Sites
"An investment in knowledge always pays the best interest." ~ Benjamin Franklin
read more
If you would like to read more about history and the presidents, visit our history bookstore.

... a thousand words
Bring history and education to life with posters and art prints in the following categories:
"To read without reflecting is like eating without digesting." ~ Edmund Burke