Lyndon B. Johnson (1963-1969)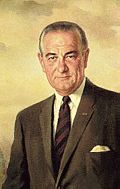 Often referred to as LBJ, Johnson (August 27, 1908 - January 22, 1973) served a long career in the U.S. Congress, and in 1960 was selected by then-Presidential candidate John F. Kennedy to be his running-mate. Johnson became the thirty-seventh Vice President, and in 1963, he succeeded to the presidency following Kennedy's assassination. He was a major leader of the Democratic Party and as President was responsible for designing the Great Society, comprising liberal legislation including civil rights laws, Medicare (health care for the elderly), Medicaid (health care for the poor), aid to education, and a "War on Poverty." Simultaneously, he escalated the American involvement in the Vietnam War, from 16,000 American soldiers in 1963 to 550,000 in early 1968.
He was elected President in his own right in a landslide victory in 1964, but his popularity steadily declined after 1966 and his reelection bid in 1968 collapsed as a result of turmoil in his party. He withdrew from the race to concentrate on peacemaking. Johnson was renowned for his domineering (or dominating) personality and the "Johnson treatment," his arm-twisting of powerful politicians.
Johnson died of a massive heart attack, the third in his lifetime, on January 22, 1973.¹
Quotes
"If future generations are to remember us more with gratitude than sorrow, we must achieve more than just the miracles of technology. We must also leave them a glimpse of the world as it was created, not just as it looked when we got through with it."
"A President's hardest task is not to do what is right, but to know what is right."
"If one morning I walked on top of the water across the Potomac River, the headline that afternoon would read: "President Can't Swim.""
"Our purpose in Vietnam is to prevent the success of aggression. It is not conquest, it is not empire, it is not foreign bases, it is not domination. It is, simply put, just to prevent the forceful conquest of South Vietnam by North Vietnam."
Noteworthy Sites