Rutherford B. Hayes (1877-1881)
Rutherford Birchard Hayes (October 4, 1822 - January 17, 1893) was an American politician, lawyer, military leader and the nineteenth President of the United States (1877-1881). Hayes was elected President by one electoral vote after the highly disputed election of 1876. Losing the popular vote to his opponent, Samuel Tilden, Hayes was the only president whose election was decided by a congressional commission.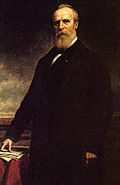 It was during his command of the 23rd Regiment of the Ohio Volunteer Infantry that Hayes met William McKinley, who would later become the 25th President of the United States. Hayes promoted McKinley twice under his military command, including once for an act of bravery at Antietam. During Hayes' first Ohio gubernatorial race, McKinley engaged in political campaigning and rallying for Hayes' election by "making speeches in the Canton area".[2] Later, as Governor of Ohio, Hayes provided political support for his fellow Republican and Ohioian during McKinley's bid for congressional election. Hayes was arguably one of the strongest political supporters underlying McKinley's military and political successes.
Because March 4, 1877 was a Sunday, Hayes took the oath of office in the Red Room of the White House on March 3, becoming the first president to take the oath of office in the White House. This ceremony was held in secret, because the previous year's election had been so bitterly divisive that outgoing President Grant feared an insurrection by Tilden's supporters and wanted to ensure that any Democratic attempt to hijack the public inauguration ceremony would fail, Hayes having been sworn in already in private. Hayes took the oath again publicly on March 5 on the East Portico of the United States Capitol, and served until March 4, 1881. Hayes' best known quotation, "He serves his party best who serves his country best," is from his 1877 Inaugural Address.
During his presidency, Hayes signed a number of bills including one signed on February 15, 1879 which, for the first time, allowed female attorneys to argue cases before the Supreme Court of the United States.¹
Quotes
"He serves his party best who serves his country best."
"An amazing invention - but who would ever want to use one?" ~ after making a call from Washington to Pennsylvania with Alexander Graham Bell's telephone, patented on 7 March 1876
"Coming in, I was denounced as a fraud by all the extreme men of the opposing party, and as an ingrate and a traitor by the same class of men in my own party. Going out, I have the good will, blessings, and approval of the best people of all parties . . ."
Noteworthy Sites
"An investment in knowledge always pays the best interest." ~ Benjamin Franklin
read more
If you would like to read more about history and the presidents, visit our history bookstore.

... a thousand words
Bring history and education to life with posters and art prints in the following categories:
"To read without reflecting is like eating without digesting." ~ Edmund Burke