Warren G. Harding (1921-1923)
A Republican from Ohio, Harding (November 2, 1865 - August 2, 1923) was an influential newspaper publisher. He served in the Ohio Senate (1899-1903) and later as lieutenant governor of Ohio (1903-1905) and as a U.S. Senator (1915-1921).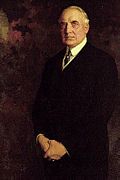 His political leanings were conservative, which enabled him to become the compromise choice at the 1920 Republican National Convention. During a campaign held in the aftermath of World War I, he promised a return to "normalcy"; in the 1920 election, he defeated his Democratic opponent, fellow Ohioan James M. Cox, by a landslide, 60.36 % to 34.19%.
As president, he appointed a strong cabinet that included Charles Evans Hughes, Andrew Mellon and Herbert Hoover. However some other appointments, including that of Albert B. Fall as Secretary of the Interior, proved to be corrupt, leading to the Teapot Dome and other scandals. In foreign affairs, Harding signed peace treaties that followed on from the Treaty of Versailles which formally ended World War I; he also led the way to world naval disarmament at the Washington Naval Conference of 1921-22.
At age 57, Harding died from a heart attack in San Francisco, California. He was 29 months into his term and the sixth U.S. president to die in office.
Harding is often ranked as one of the least successful U.S. presidents, despite his immense popularity while in office. Indeed, Harding himself is quoted as saying "I am not fit for this office and never should have been here."¹
Quotes
"I have no trouble with my enemies. I can take care of my enemies in a fight. But my friends, my goddamned friends, they're the ones who keep me walking the floor at nights!"
"I don't know much about Americanism, but it's a damn good word with which to carry an election."
"America's present need is not heroics, but healing; not nostrums but normalcy; not revolution, but restoration."
"Progression is not proclamation nor palaver. It is not pretense nor play on prejudice. It is not of personal pronouns nor perennial pronouncement. It is not the perturbation of a people passion-wrought, nor a promise proposed. Progression is everlastingly lifting the standards that marked the end of the world's march yesterday and planting them on new and advanced heights today."
Noteworthy Sites
"An investment in knowledge always pays the best interest." ~ Benjamin Franklin
read more
If you would like to read more about history and the presidents, visit our history bookstore.

... a thousand words
Bring history and education to life with posters and art prints in the following categories:
"To read without reflecting is like eating without digesting." ~ Edmund Burke