Ulysses S. Grant (1869-1877)
Ulysses S. Grant, born Hiram Ulysses Grant (April 27, 1822 - July 23, 1885), was an American general and the eighteenth President of the United States. He achieved international fame as the leading Union general in the American Civil War.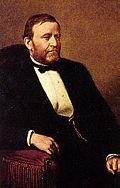 Grant first reached national prominence by taking Forts Henry and Donelson in 1862 in the first Union victories of the war. The following year, his brilliant campaign ending in the surrender of Vicksburg secured Union control of the Mississippi and-with the simultaneous Union victory at Gettysburg-turned the tide of the war in the North's favor. Named commanding general of the Federal armies in 1864, he implemented a coordinated strategy of simultaneous attacks aimed at destroying the South's ability to carry on the war. In 1865, after conducting a costly war of attrition in the East, he accepted the surrender of his Confederate opponent Robert E. Lee at Appomattox Court House. Grant has been described by J.F.C. Fuller as "the greatest general of his age and one of the greatest strategists of any age." His Vicksburg Campaign in particular has been scrutinized by military specialists around the world.
In 1868, Grant was elected president as a Republican. Grant was the first president to serve for two full terms since Andrew Jackson forty years before. He led Radical Reconstruction and built a powerful patronage-based Republican party in the South, with the adroit use of the army. He took a hard line that reduced violence by groups like the Ku Klux Klan. Although Grant was personally honest, he not only tolerated financial and political corruption among top aides but also protected them once exposed.
Presidential experts typically rank Grant in the lowest quartile of U.S. presidents, primarily for his tolerance of corruption. In recent years, however, his reputation as president has improved somewhat among scholars impressed by his support for civil rights for African Americans. Unsuccessful in winning a third term in 1880, bankrupted by bad investments, and terminally ill with throat cancer, Grant wrote his Memoirs, which was enormously successful among veterans, the public, and the critics.¹
Quotes
"The war is over-the rebels are our countrymen again." - Dispatch from Spotsylvania Court House, VA, May 11, 1864
"The friend in my adversity I shall always cherish most. I can better trust those who helped to relieve the gloom of my dark hours than those who are so ready to enjoy with me the sunshine of my prosperity."
"Every human being, of whatever origin, of whatever station, deserves respect. We must each respect others even as we respect ourselves."
"The art of war is simple enough. Find out where your enemy is. Get at him as soon as you can. Strike him as hard as you can, and keep moving on."
Noteworthy Sites
"An investment in knowledge always pays the best interest." ~ Benjamin Franklin
read more
If you would like to read more about history and the presidents, visit our history bookstore.

... a thousand words
Bring history and education to life with posters and art prints in the following categories:
"To read without reflecting is like eating without digesting." ~ Edmund Burke