James A. Garfield (1881)
James Abram Garfield (November 19, 1831-September 19, 1881) was a major general in the United States Army, member of the U.S. House of Representatives, and the twentieth President of the United States. He was the second U.S. President to be assassinated - Abraham Lincoln was the first. Garfield had the second shortest presidency in U.S. history, after William Henry Harrison's. In office for six months and fifteen days, President Garfield, a Republican, actually served for less than four months before being fatally shot on July 2, 1881.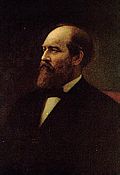 In 1880, Garfield's life underwent tremendous change with the publication of the Morey letter, and the end of Democratic U.S. Senator Allen Granberry Thurman's term. The Ohio legislature, which had recently again come under Republican control, chose Garfield to fill Thurman's seat. However, at the Republican National Convention Garfield gained support for the party's Presidential nomination, and on the 36th ballot Garfield was nominated, with virtually all of Blaine's and John Sherman's delegates breaking ranks to vote for the dark horse nominee. As it happened, the U.S. Senate seat to which Garfield had been chosen ultimately went to Sherman, whose Presidential candidacy Garfield had gone to the convention to support.
In the general election, Garfield defeated the Democratic candidate Winfield Scott Hancock, another distinguished former Union Army general, by 214 electoral votes to 155. (The popular vote had a plurality of 9,464 votes out of more than nine million cast) He became the only man ever to be elected to the Presidency straight from the House of Representatives. Garfield took office on March 4, 1881.¹
Quotes
"I am bidding good-bye to private life and to a long series of happy years which I fear terminate in 1880." - as he prepared to begin his presidency
"If the power to do hard work is not a skill, it's the best possible substitute for it."
"If wrinkles must be written on our brows, let them not be written upon the heart. The spirit should never grow old."
"Poverty is uncomfortable; but nine times out of ten the best thing that can happen to a young man is to be tossed overboard and compelled to sink or swim."
Noteworthy Sites
"An investment in knowledge always pays the best interest." ~ Benjamin Franklin
read more
If you would like to read more about history and the presidents, visit our history bookstore.

... a thousand words
Bring history and education to life with posters and art prints in the following categories:
"To read without reflecting is like eating without digesting." ~ Edmund Burke