Gerald R. Ford (1974-1977)
The thirty-eighth President of the United States, serving from 1974 to 1977, Gerald R. Ford (July 14, 1913 - December 26, 2006) was also the fortieth Vice President of the United States serving from 1973 to 1974. He was the first person appointed to the vice presidency under the terms of the 25th Amendment, and became President upon Richard Nixon's resignation on August 9, 1974.
Prior to 1973, Ford served for over eight years as the Republican Minority Leader of the United States House of Representatives; he was originally elected to Congress in 1948 from Michigan's 5th congressional district.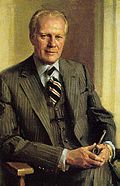 As president, Ford signed the Helsinki Accords, marking a move toward détente in the Cold War, even as South Vietnam, a former ally, was invaded and conquered by North Vietnam. Ford did not intervene in Vietnamese affairs, but did help extract friends of the U.S. Domestically, the economy suffered from inflation and a recession under President Ford. One of his more controversial decisions was granting a presidential pardon to President Richard Nixon for his role in the Watergate scandal. In 1976, Ford narrowly defeated Ronald Reagan for the Republican nomination, but ultimately lost the presidential election to Democrat Jimmy Carter.¹
Quotes
"A government big enough to give you everything you want is a government big enough to take from you everything you have."
"My fellow Americans, our long national nightmare is over."
"The political lesson of Watergate is this: Never again must America allow an arrogant, elite guard of political adolescents to by-pass the regular party organization and dictate the terms of a national election."
"If Lincoln were alive today, he'd be turning over in his grave."
Noteworthy Sites
"An investment in knowledge always pays the best interest." ~ Benjamin Franklin
read more
If you would like to read more about history and the presidents, visit our history bookstore.

... a thousand words
Bring history and education to life with posters and art prints in the following categories:
"To read without reflecting is like eating without digesting." ~ Edmund Burke