Bill Clinton (1993-2001)
William Jefferson "Bill" Clinton (born William Jefferson Blythe III on August 19, 1946) was the forty-second President of the United States, serving from 1993 to 2001. He was the third-youngest president, older only than Theodore Roosevelt and John F. Kennedy. He became president at the end of the Cold War, and is known as the first baby boomer president, as he was born in the period after the Second World War.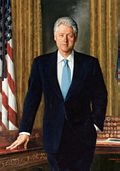 Clinton was described as a New Democrat and was largely known for the Third Way philosophy of governance that came to epitomize his two terms as president. His policies, on issues such as the North American Free Trade Agreement, have been described as "centrist." Clinton presided over the longest period of peace-time economic expansion in American history, which included a balanced budget and a reported federal surplus. His presidency was also quickly challenged. On the heels of a failed attempt at health care reform with a Democratic Congress, Republicans won control of the House of Representatives for the first time in 40 years. In his second term he was impeached by the hostile Republican dominated U.S. House for perjury and obstruction of justice, but was subsequently acquitted by the United States Senate and completed his term.¹
Quotes
"Let me say this as clearly as I can: No matter how sharp a grievance or how deep a hurt, there is no justification for killing innocents."
"I believe I'm a better authority than anybody else in America on my own wife. I have never known a person with a stronger sense of right and wrong in my life ever."
"When I took office, only high energy physicists had ever heard of what is called the Worldwide Web... Now even my cat has its own page."
"Never pick a fight with people who buy ink by the barrel."
Noteworthy Sites
"An investment in knowledge always pays the best interest." ~ Benjamin Franklin
read more
If you would like to read more about history and the presidents, visit our history bookstore.

... a thousand words
Bring history and education to life with posters and art prints in the following categories:
"To read without reflecting is like eating without digesting." ~ Edmund Burke