Jimmy Carter (1977-1981)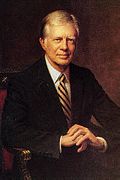 James Earl Carter, Jr. (born October 1, 1924), commonly known as Jimmy Carter, was the thirty-ninth President of the United States from 1977 - 1981, and recipient of the Nobel Peace Prize in 2002. Prior to becoming president, Carter served two terms in the Georgia Senate, and was the 76th Governor of Georgia from 1971 - 1975.
Carter's presidency was marked by several major crises, including the takeover of the American embassy and holding of hostages by students in Iran, a failed rescue attempt of the hostages, serious fuel shortages, and the Soviet invasion of Afghanistan.
His administration created two new cabinet-level departments: the Department of Energy and the Department of Education. He established a national energy policy, removed price controls from domestic petroleum production, but was unable to make the USA less reliant on foreign oil sources. He introduced a staggered increase in the payroll tax in a failed attempt to bolster Social Security. In foreign affairs, Carter pursued the Camp David Accords, the Panama Canal Treaties and the second round of Strategic Arms Limitation Talks (SALT). Carter advocated a policy that held other countries to the highest moral standard possible, a standard by which, he believed, Americans would want themselves to be judged. The final year of his term was dominated by the Iran hostage crisis, during which the United States struggled to rescue diplomats and American citizens held hostage in Tehran. By 1980, Carter was so unpopular that he was challenged by Ted Kennedy for the Democratic Party nomination in 1980. Carter received the Democratic nomination, but lost the election to Republican Ronald Reagan.
In 2002, former President Carter received the Nobel Peace Prize for his work "to find peaceful solutions to international conflicts, to advance democracy and human rights, and to promote economic and social development" through The Carter Center. He is the only former president to be so honored.¹
Quotes
"America did not invent human rights. In a very real sense human rights invented America."
"Human rights is the soul of our foreign policy, because human rights is the very soul of our sense of nationhood."
"I think what's going on in Guantanamo Bay and other places is a disgrace to the U.S.A. I wouldn't say it's the cause of terrorism, but it has given impetus and excuses to potential terrorists to lash out at our country and justify their despicable acts."
"The experience of democracy is like the experience of life itself-always changing, infinite in its variety, sometimes turbulent and all the more valuable for having been tested by adversity."
Noteworthy Sites
"An investment in knowledge always pays the best interest." ~ Benjamin Franklin
read more
If you would like to read more about history and the presidents, visit our history bookstore.

... a thousand words
Bring history and education to life with posters and art prints in the following categories:
"To read without reflecting is like eating without digesting." ~ Edmund Burke