George W. Bush (2001-2009)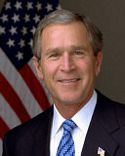 George Walker Bush (born July 6, 1946) is the forty-third and current President of the United States of America. He previously served as the forty-sixth Governor of Texas from 1995 to 2000 and is the eldest son of former United States President George Herbert Walker Bush. He was inaugurated as President on January 20, 2001 and his current term is scheduled to end on January 20, 2009.
Facing opposition in Congress, Bush held town hall-style public meetings across the U.S. in 2001 to increase public support for his plan for a US$1.35 trillion tax cut program-one of the largest tax cuts in U.S. history. Bush and his economic advisers argued that unspent government funds should be returned to taxpayers. With reports of the threat of recession from Federal Reserve Chairman Alan Greenspan, Bush argued that such a tax cut would stimulate the economy and create jobs. Others, including the Treasury Secretary at the time Paul O'Neill, were opposed to some of the tax cuts on the basis that they would contribute to budget deficits and undermine Social Security.¹
Quotes
"I am mindful not only of preserving executive powers for myself, but for predecessors as well."
"It is clear our nation is reliant upon big foreign oil. More and more of our imports come from overseas."
"Saddam Hussein is a homicidal dictator who is addicted to weapons of mass destruction."
"Some folks look at me and see a certain swagger, which in Texas is called 'walking.'"
Noteworthy Sites
"An investment in knowledge always pays the best interest." ~ Benjamin Franklin
read more
If you would like to read more about history and the presidents, visit our history bookstore.

... a thousand words
Bring history and education to life with posters and art prints in the following categories:
"To read without reflecting is like eating without digesting." ~ Edmund Burke